16 Country Christmas Craft Ideas
Get thrifty with these rustic Christmas crafts for your home.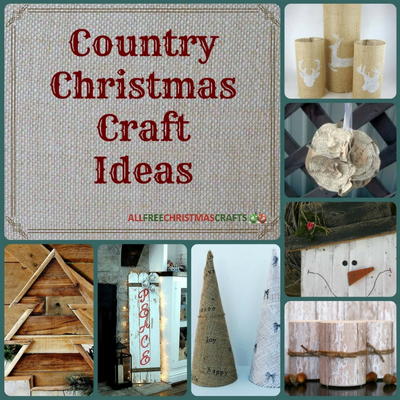 These 16 Country Christmas Craft Ideas will make you say yee-haw. Some of these rustic Christmas ideas include tutorials for ornaments, decorations, and even gifts. Whether you're in the middle of the country or living in a concrete jungle, you can always add a rustic flare to your space with a touch of country Christmas decor. If you're interested in making country crafts for Christmas, be sure to gather up some burlap, paint, and wood. Other materials you may need for your easy country crafts include wine corks, Mason jars, and leftover Christmas cards.

If you're looking for Christmas decorating ideas, make this country craft roundup your new best friend. Be sure to check out each of these country Christmas ideas - they don't all look the same. In fact, there are so many different types of country Christmas craft ideas, so you won't get stuck in a rut.

The hustle and bustle of city life can be exhausting, especially during the holiday season. If you can't afford a trip to a secluded log cabin, or just don't want to leave the house, the best alternative is primitive Christmas crafts. Start with one of these country Christmas craft ideas and then work your way through the rest of the list. Before you know it, you'll have a home full of DIY Christmas crafts.
Table of Contents
Christmas Crafts Ideas for Ornaments
The easiest way to add to add some country Christmas decor to your home is on the branches of your Christmas tree! Cover your tree with creative rustic ornaments this holiday season. These country Christmas craft ideas are pretty, eye-catching and seriously gorgeous.
DIY Christmas Crafts for Mini Trees
Who needs a big tree when you can make a miniature version? These country Christmas craft ideas are perfect for a small space. Make a tiny Christmas tree and place on your desk, mantel or kitchen table. These dainty tabletop trees could make for easy country craft gifts, perfect for office grab-bags and Secret Santas!
More Country Christmas Decorating Ideas
Give your home a country Christmas decor makeover by creating some eye-catching DIY Christmas crafts. These country Christmas craft ideas are timeless and interesting, so you can display them year after year.
Your Recently Viewed Projects