60 Christmas Crafts from Recycled Items
Christmas is expensive enough. Save money by making recycled Christmas decorations this year!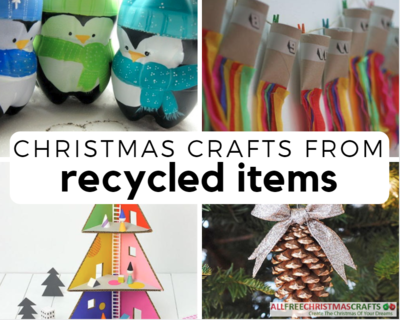 With this list of 60 Christmas Crafts from Recycled Items, you'll save your hard-earned cash and the planet, one project at a time. Inspiration can strike at any moment and you never know when you'll find a plastic bottle, metal can, or piece of scrap paper you can turn into a Christmas crafts.

For instance, you can make Christmas trees out of old wine corks, coasters out of washers, and recycled Christmas decorations out of Christmas cards.

And don't forget to subscribe to the AllFreeChristmasCrafts newsletter for more projects you love from bloggers you trust, delivered straight to your inbox every week.

If you need ideas for your next gift exchange, try creating recycled Christmas gifts. Many of these projects are kid-friendly, so gather your little ones and show them how much fun recycling can be.
Table of Contents
What types of materials do you like to work with when creating recycled Christmas crafts? Tell us below!
Your Recently Viewed Projects