Chunky Christmas Bead Bracelet
This year, make Christmas jewelry crafts that truly stand out from the crowd. Use chunky red, white and green beads to create a cool and festive pattern. Wear your Chunky Christmas Bead Bracelet all year long so you never lose the holiday spirit.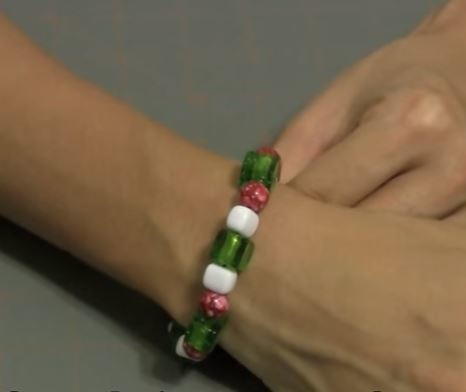 Materials:
12" waxed linen
Scissors
Clasp
6 white rectangular beads
4 red round beads
5 green square beads
Instructions:
Cut 12" waxed linen.

Tie a double knot to one end of the string to one clasp.

String on the first bead (white).

Loop string through the first bead to secure in place about 1" or less away from the clasp.

Add remaining beads. The pattern used in this video: White (1st bead) - Green - White - Red - Green - Red - White - Green - White - Red - Green - Red - White - Green - White.

After adding the last bead (white), tighten beads and loop through the string around the white bead to secure the beads in place. This will keep the beads from sliding around when wearing.

Add the other end of the clasp and tie with a double knot.
Optional:
Add a dab of glue to the knots tied around the clasps to secure in place.

Adjust the length of the bracelet by adding more beads or by adjusting the distance between the end beads and the clasp.

If using 22 gauge wire instead of string, twist wire around the clasp to secure in place.
How to Make a Chunky Christmas Bead Bracelet:
Find more projects and tutorials from Craft Designer Caroline Dunn.
Your Recently Viewed Projects