Punched Paper DIY Garland
Christmas paper crafts are fun and simple. Don't believe us? Take a look at this Punched Paper DIY Garland. In just a few short steps you can create darling DIY garland to string throughout your home or around your Christmas tree. This DIY Christmas decoration keeps it simple and sweet. Christmas crafting just got that much easier with this fabulous tutorial. Find some colorful paper and string, and let's get crafting!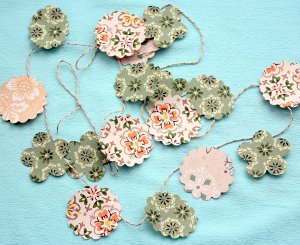 Materials:
Vintage wallpaper or scrapbook paper of your choice
Thin cardboard or posterboard
Pretty twine
Glue stick or spray adhesive
Scissors
Hot glue
Paper punches or diecuts
Paper hole punch
Glitter glue (optional)
Instructions:
Apply a thin layer of spray adhesive to a piece of cardboard or posterboard. Lay your decorative scrapbook paper on top and smooth it down. Repeat on the flipside. This is the easy option if your diecut machine is strong enough to cut through cardboard. If it isn't, you will have to cut two paper diecut pieces and one piece of cardboard and glue them together.



Lay diecuts of your papers down on your work table pretty side down. Space them apart equally.

Put a dot of hot glue in the center and lay a long length of twine down so it is secured by the glue. Place a second diecut on top with an additional dot of hot glue.

Your Recently Viewed Projects