Christmas Tree Cork Earrings
Go green with eco-friendly cork crafts for Christmas. Create your own Christmas Tree Cork Earrings - you only need one cork and two beads. This is a fun and inexpensive project that will help you trim your trash and save money during the holidays.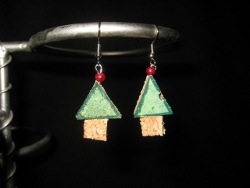 Materials:
Wine cork
2 head pins
2 beads (your choice)
2 dangle earring loops / ear wire
Sharp knife
Cutting board
Drill with 1/8" drill bit & scrap wood
Round nose pliers
Wire cutter
Green felt-tipped marker
Non-toxic green paint & paintbrush
Instructions:
Cut cork crosswise into 3/16 inch slices. Cut 3 slices total.

Drill 1 hole in 2 of the 3 slices through the cork slice lengthwise.

Cut out two small cubes out of the third cork slice. Drill a hole through the middle of each cube.

Using your green felt-tipped marker, draw a triangle on each of the 2 cork slices starting at one of the holes.

Cut out the triangles from the cork slices.

Paint with green paint. Allow to dry.

Using a head pin, thread the cube first, then the triangle to form a Christmas tree.

Next, thread your bead onto the head pin.

Thread ear loop wire and close head pin.

Repeat for the other earring.
How to Make Christmas Cork Earrings:
Find more projects and tutorials from Craft Designer Caroline Dunn.
Your Recently Viewed Projects