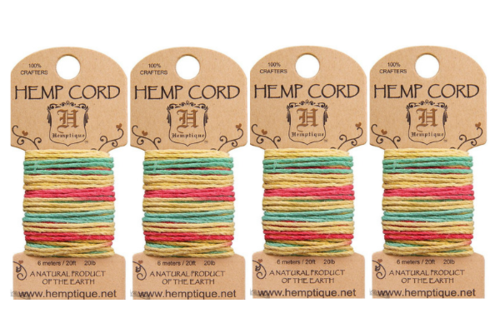 Hemptique Hemp Cord
hemptique.com
Reviewed by , Editor, AllFreeChristmasCrafts.com

If you're looking to craft eco-friendly then you're going to love Hemp Cord by Hemptique. Hemp Cord is a high-end environmentally friendly hemp; it's perfect for crafters who love bamboo, organic cotton and other natural-fiber products. This cord is great for scrapbooking, gardening, jewelry making, handmade cards and so much more. With its natural biodegradability and eco-friendly alternative to cotton, it's no wonder it's the preferred choice for crafters.



Hemptique offers a wide variety of hemp products including apparel, cording, yarn, fabrics, accessories, twine, ropes, webbing and bakers twine. Hemp is fully biodegradable. Unlike many other fibers, Hemptique hemp cords are round by nature, and that makes it easy to work with.



Hemp cords are cleanly polished, making it easy to work with, and best quality for making necklaces, bracelets, anklets, earrings, charms, brooches, watch bands and many more forms of adornments to enhance beauty. You'll also love the many colors that it comes in (Bright Green, Burgundy, Cappuccino, Dark Grey, Lavendar, Red, Yellow and many more). Hemptique also offers glitter cords with specs of metallic in them, as well as variegated spools.



The glitter cords are 100% hemp, 1mm in thickness, AZO-Free Dye, and oil free. Because it is waxed and polished it enhances the color of the product, giving you a beautiful spool of help to work with.



For your next project, be sure you check out Hemptique's Hemp Cord. You'll never feel guilty about working with eco-friendly products!
Your Recently Viewed Projects