Wear your Christmas spirit on your sleeve and make your own Festive Fabric Cuff. Jewelry making ideas don't get more creative than this. Save your fabric scraps and upcycle an old cuff to create this fun and interesting Christmas jewelry craft.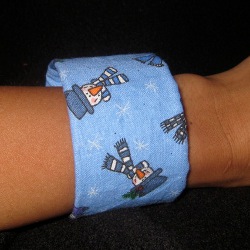 Materials:
Basic cuff bracelet
Fabric (your choice) - 1/8 yard
Sewing machine & thread
Ruler
Scissors
Instructions:
Measure the dimensions of your cuff bracelet. These instructions are written for a cuff 1-5/8" width and 6" around (length).

Calculate dimensions using this formula: Cuff Length + 2 inches = Cut length, Cuff Width + 3/8 inches multiplied by 2 + 1/4 inch.

For a cuff that is 1-5/8" by 6", cut fabric into a rectangle 8 inches by 4 1/4 inches.

Fold right sides together lengthwise.

Using a 3/8" seam allowance, sew lengthwise. Leave ends open and unfinished.

Turn inside out so that the right sides are now visible.

Slide fabric sleeve onto the cuff bracelet.

Tuck unfinished ends into the bracelet.

Optional: Hand sew, or hot glue fabric to the back of the cuff bracelet instead of using a sewing machine.
How to Make a Festive Fabric Cuff:
Find more projects and tutorials from Craft Designer Caroline Dunn.
Your Recently Viewed Projects