5 Christmas Decorating Ideas
When it comes to homemade Christmas crafts, there's really never a bad time to get started. Even if you aren't ready to get crafting just yet, you can still come up with some ideas and save them for later. In fact, the more ideas you have now, the less you'll have to worry when the holiday season rolls around. It's always good to plan ahead and get in the holiday spirit. Celebrate Christmas in July or host a holiday-themed party in September - it's always fun to get in the holiday spirit!
Get in the holiday spirit right this second and start brainstorming ideas for homemade Christmas ornament crafts, wreaths and more. You can even make a gift for your cat! Each of these projects is fun to make and simple enough for beginners. You can even get the kids involved in your homemade Christmas ornaments. Come up with decorating ideas for Christmas and get in the holiday spirit - you'll be so glad you started early. No need to scramble for ideas for Christmas decorating or gifts - we've got you covered with these simple tutorials.
5 Christmas Decorating Ideas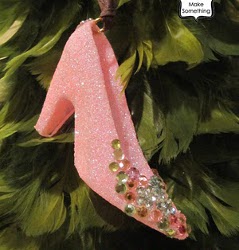 Glittered Glass Slipper Ornaments: Everyone deserves to feel like a princess, so why not create an ornament fit for a royal? If you're looking for fun Christmas decorating ideas, start with a plain plastic shoes and cover it with Mod Podge. Add glitter to the shoe and adhere some inspiring words or phrases as well. You can even glue on some of your favorite jewels! This girly project is perfect for anyone that loves a little sparkle or shine. Make one for yourself and give another to your favorite little princess - she'll love hanging it on the tree year after year.
Baby Jesus Ornament: You only need a few wooden pieces from your local craft store to create homemade Christmas ornament crafts like this one. In fact, this project is so easy, you can gather up the kids and turn crafting into a family affair. Little ones can paint the large circles and add faces to the round buttons. Parents can drill holes into the ornaments and cover the faces in multi-purpose sealer. This craft is traditional but fun for kids. Use this activity as an excuse to explain the significance of traditions during the Christmas season.
Dough Bear Ornaments: With a simple recipe for bread dough and some paint, you can make an adorable homemade christmas ornaments that also double as a creative mantel decorations. Once you've shaped your ornaments and baked them in your oven, you can begin to decorate them. Once you've covered the ornament in paint, go over everything with a clear varnish so it really shines on your tree. Bread dough is a fantastic medium for crafting - it's easy to work with and can be used for all sorts of projects. Christmas decorating ideas are best when you can use items you already have in your pantry.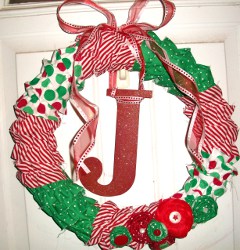 Ruffled Fabric Christmas Wreath: Wreaths are a huge trend for homemade Christmas decorations, but during the holiday season, it seems like you just can't get away from them! It makes sense, of course, because this is an easy project that you can hang up all season long. Use festive fabric scraps and add your first or last initial to make the piece completely unique. If you like to sew, then you'll have a ball adding ruffles to the fabric and adding each piece to the wreath. Add embellishments such as rosettes to the wreath for a fun and unexpected touch.
Crochet Christmas Mice: If you love to crochet, then this project is perfect for you. Make your homemade Christmas gifts for a feline friend. Fill each mouse with cat nip and give them to your favorite cat. This project is sure to provide hours of fun and entertainment. Make your own pet toys this year and save yourself a trip to the pet store! Be sure to use red and green yarn so they're extra festive.
Your Recently Viewed Projects