Spiffy Sweater DIY Stockings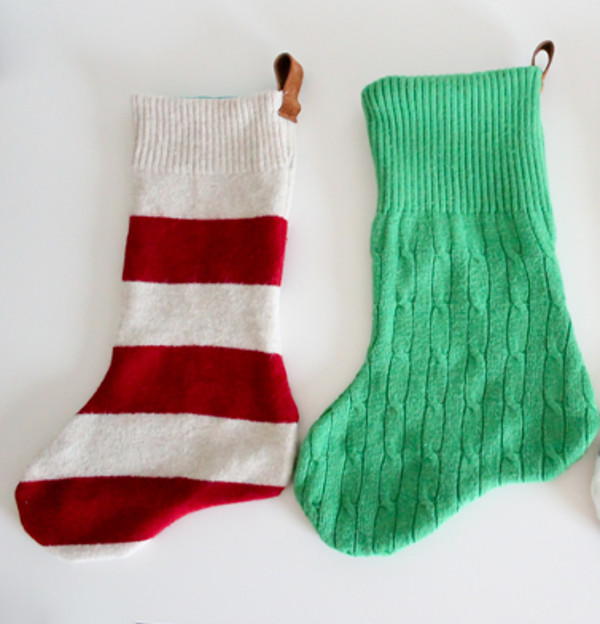 Spiffy Sweater DIY Stocking
If your Christmas stocking is looking a bit ratty, then it's time to replace it with one of these Spiffy Sweater DIY Stockings. This craft project will show you how to make a Christmas stocking from old sweaters. No need to shell out lots of money for store-bought stockings with all the bells and whistles, when you can be thrifty and upcycle sweaters into stockings. If you have a bunch of ugly Christmas sweaters that you're not planning on wearing anymore, then turn them into festive holiday stockings. Seeing your homemade stockings hanging from the mantel, you'll be so proud.
Time to CompleteIn an evening

---
DID YOU KNOW?
Using sweaters to make stockings is a great idea for recycled Christmas decorations, but why do we even have stockings? Many people decorate their homes for Christmas by hanging stockings on the fireplace, ready to be filled with goodies on Christmas morning. The origin of stockings is thought to be that, long ago, a poor European family once hung their wet stockings up by the fireplace to dry. St. Nicholas snuck into their home and threw bags of gold coins into the stockings to help the family. This legend actually lead to one of the most popular stocking-related traditions of waking up on Christmas morning to find oranges in your stocking. The oranges in the stocking are said to represent the bags of gold St. Nicholas dropped into those first Christmas stockings.
One stocking that can't be hung by the chimney with care is the world's biggest stocking. Finished in December 2015, this impressive stocking won the world record for the largest stocking ever made. Roughly 139 feet tall by 74 feet wide, this gigantic stocking weighs 1,600 pounds. And that's without the presents!
Your Recently Viewed Projects