11 Christmas Gift Ideas: Handmade Scarves, Hats and More free eBook
11 Christmas Gift Ideas: Handmade Scarves, Hats and More free eBook
Finding gifts for everyone on your list can be difficult. These amazing ideas help you out!
When it comes to gift giving, homemade Christmas gifts are a safe bet. The fact that you took the time and energy to create the perfect present is not lost on the recipient. Before you start writing up your Christmas gift list, consider using your craft skills to create homemade Christmas gifts that are practical and fun. The patterns featured in 11 Christmas Gift Ideas: Handmade Scarves, Hats and More are wearable, so your loved ones will think of you every time they bundle up. Create hats, personalized shirts, scarves, and more with help from this free eBook. You don't have to be a master sewer or a champion knitter, either– these projects are great for crafters at any skill level.


Download your copy of 11 Christmas Gift Ideas: Handmade Scarves, Hats and More today!
11 Christmas Gift Ideas: Handmade Scarves, Hats and More
Table of Contents
Greetings, Christmas Crafters!

You've seen tutorials for tree crafts, wall hangings, and Christmas-themed pillows. Although it's great to come home to a festive space, what happens when you leave? You can't bring your holiday décor with you when you walk out the door! That's why it's important to make and give festive wearables this season.
Christmas scarves, hats, jewelry, and other wearables are often thought of as gaudy or unfashionable, but this eBook is filled ideas that work for all Christmas enthusiasts. Make a fleece scarf using your choice of fabric (no red or green required) or create a fuzzy ornament necklace that's festive and fun. You can even crochet a bracelet during your Christmas travels and give it as a gift when you arrive at your destination.
Think outside the box this year and create crafts that you or someone you love can wear. This eBook is a one stop shop for crafty Christmas ideas! Show your Christmas spirit wherever you go and give a gift that people will want to show off.
You can find more tutorials, tips, and decorating ideas at AllFreeChristmasCrafts.com.
Our eBooks, like all our Christmas craft projects, are absolutely FREE to members of our crafting community. Please feel free to share with family and friends and ask them to sign up at our website for our free e-mail newsletter.
Happy Crafting,
The Editors of AllFreeChristmasCrafts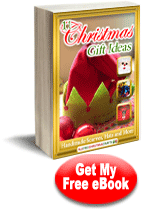 Download your copy of 11 Christmas Gift Ideas: Handmade Scarves, Hats and More today!
Easy Peasy Elf Hat (pg. 5) – Santa gets all the attention during the holidays. Celebrate the unsung heroes of the season by creating this Easy Peasy Elf Hat! For this project, upcycle a pair of leggings and add fun embellishments like pom poms. If you love to sew, then you'll love this easy hat pattern. Homemade Christmas gifts don't get much cuter or simpler than this; in just five easy steps, you'll have a cute topper for Christmas morning.
"Stocking" Hat and Scarf (pg. 11) – Keep your head warm and look stylish at the same time. This pattern can be tailored to fit anyone's taste. If you have someone on your list who loves Christmas, choose a red and white patterned fabric. If you're making a gift for someone who prefers to keep a lid on her holiday spirit, use solid colored fabric in a neutral color instead.
Fleece Fringed Scarf (pg. 17) – Homemade Christmas gifts don't have to cost an arm and a leg. Sewn projects for Christmas are fun to make, especially if you need to whip up a few extra gifts in a short period of time. Make a circle scarf out of fleece for a cuddly, soft accessory. The elastic makes this handmade scarf fully adjustable, and the fringe adds an unexpected dose of flair.
Santa Scarf (pg. 19) – Learn how to make a Santa scarf to match that crimson cap on your head. All you need is fleece, felt, and a little bit of holiday magic to create this DIY Christmas gift. Kids will love showing off their homemade Santa scarf to classmates.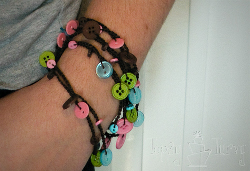 Crochet Button Bracelet (pg. 23) – Make a cute jewelry craft for the fashionistas on your list. This project is perfect for crafters who are on the go. Grab some leftover buttons, thread, and a small crochet hook, and you'll be ready to craft cute accessories using the chain stitch.
You can easily download and print out each book for on-hand reference while crafting.
For help downloading our eBooks, check out the FAQ here: How to Download our eBooks.
With your free copy of 11 Christmas Gift Ideas: Handmade Scarves, Hats and More, you can also subscribe to our Crafty Christmas Ideas newsletter to become part of a fantastic Christmas crafting community. In subscribing to the newsletter you will receive:
Two weekly emails with free Christmas projects, tips, collection pages and more.
New FREE projects made available to you throughout the year.
Access to our free library full of 1000s more free projects and tutorials.
The opportunity to share ideas and help others in the Christmas crafting community.
Christmas crafters are a thoughtful bunch, and 11 Christmas Gift Ideas: Handmade Scarves, Hats and More is a free guide to heartfelt gifts that you can give, keep, or both. Be sure you subscribe to receive our newsletter Crafty Christmas Ideas, and all of the homemade Christmas ideas, easy Christmas kids' crafts, easy Christmas sewing crafts and more will be right at your fingertips.
Your Recently Viewed Projects