Add a little fun to your Christmas card making. A Christmas Pop Up Card from Carlene Eshelman is a fun and unexpected alternative to traditional holiday paper crafts. Be sure to personalize the front of your card and include a special message inside.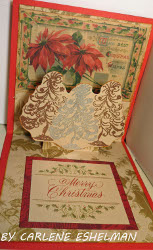 Materials:
Completed card front
5-1/2" X 10" cardstock
2-1/2" X 3" cardstock
Craft knife
Cutting mat
Pencil
Adhesive
Embellishments
Instructions:
Take 5-1/2" X 10" cardstock and fold in half. This will be your card insert.

Fold 2-1/2" X 3" cardstock in half.

Match and center 2 1/2" X 3" cardstock to center fold of 5-1/2" X 10" cardstock.

Hold flat, and trace vertical edges of smaller cardstock piece.

Place card insert onto cutting mat.

With craft knife, cut the two vertical pencil lines.

Hold insert in your hands, and gently push up the center where you cut.

Fold cut area down and crease. It should pop out.

Attach a sentiment, or embellishment to the front of the pop out area.

Embellish insert as desired.

Adhere insert to completed card front.
How to Make a Christmas Pop Up Card:
Your Recently Viewed Projects