7 Easy Christmas Crafts free eBook
7 Easy Christmas Crafts eBook
So easy you can't NOT make these incredible Christmas crafts!
Christmas is the perfect time of year to test your crafting skills. There are so many opportunities to be creative and, during the holiday season, it's easy to find plenty of Christmas craft ideas. Christmas is the most wonderful time of the year, so why not celebrate with any of our fabulous Christmas craft ideas? From Christmas crafts for kids to homemade Christmas gifts, this free eBook is filled with creative project ideas.

Some people don't look forward to the holiday season because they worry about the cost of craft supplies and various materials needed to create fun Christmas crafts. Have no fear! This book is filled with inexpensive Christmas craft ideas for all of those holiday gift-givers on a budget. Christmas shouldn't be a time for stress; it should be a time for celebration. Don't be self-conscious about your lack of artistic skill or, for that matter, money. This eBook is filled with ideas for people that are short of time, money and creative skills.

Let your imagination and creativity shine this season with help from this free eBook. Download your free copy of 7 Easy Christmas Crafts and decorate your home for the holiday season. This eBook is free and comes in the form of a PDF file, so it can be saved forever. Come back to it whenever you want – once you download a copy of this eBook, it's yours forever!

Download your free copy of 7 Easy Christmas Crafts eBook today!

7 Easy Christmas Crafts eBook
Table of Contents
Hi Christmas crafters,
Sometimes, the best craft projects are the ones that don't take too much time. For example, when you're coming up with a project idea for a child, you don't want to use complicated techniques or a laundry list of supplies. When all is said and done, if you keep it simple, you'll see results and have fun at the same time.
Each of the following projects is incredibly easy to produce. In fact, you'll only need a few hours and a short list of supplies. There's no need to stress during the holiday season – bring the family together and create a fun, imaginative experience for all. Decorate your home, spice up your tree or make a card – this eBook is filled with a variety of unique, easy projects!
The homemade gifts, decorations, cards and more inside this free eBook prove that easy crafts don't have to be juvenile or amateurish. Save money and time with these uncomplicated but incredibly fun projects.
You can find more tutorials, tips, and decorating ideas at www.AllFreeChristmasCrafts.com.
Our eBooks, like all our Christmas craft projects, are absolutely FREE to members of our crafting community. Please feel free to share with family and friends and ask them to sign up at our website for our free e-mail newsletter.
Happy Crafting,
The Editors of AllFreeChristmasCrafts


Super Snowflakes (pg. 5) - Many people think that the good craft ideas Christmas has to offer involve spending lots of money. Well this project is completely the opposite! Use white poster board and scissors to get started and add glitter if you're feeling a little adventurous. Hang your stars from the ceiling for a fun, wintery effect. That's all you need to do for this fun, easy homemade Christmas project. Kids will love these giant snowflakes! Best of all, there's no pattern to follow. Every snowflake is completely unique and filled with tiny imperfections. Don't be afraid to experiment with your creation. Express yourself and reap the decorative rewards.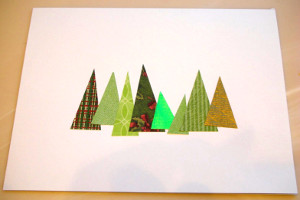 Tree Christmas Card (pg. 7) - Do you have a ton of old Christmas card you don't know what to do with? Want to save trees and money at the same time? Make your own homemade cards by dipping into your paper stash. This is a great way to get rid of scraps that you would otherwise have no use for. You also save yourself a trip to the store where you might not even find a fitting message. Everyone loves homemade paper crafts. Christmas is a great time to show you care about the environment. Use colorful card scraps to create your own creation. Follow along with this tutorial or create a design that is entirely your own. It doesn't get much easier than this Christmas card craft.
Jingle Bell Garland (pg. 9) - This garland is unbelievably easy to make. In just three short steps, you'll have a cool, understated Christmas project to decorate your tree. This project is perfect for crafters that need to practice their skills. Homemade Christmas craft ideas can go anywhere – on your table, mantle, walls and even your tree. Use felt to make your garland and add bells to evoke thoughts of reindeers and Santa. Grab your hot glue gun to attach the felt to the garland and you're done! It doesn't get easier than that!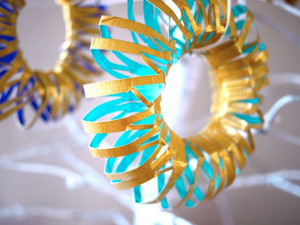 Toilet Paper Roll Wreath Ornaments (pg. 18) - When you think of Christmas, you probably don't imagine toilet paper rolls. This isn't usually something people use to make immaculate projects to decorate their homes. Well the rules for easy Christmas ornaments have changed! Be an eco-conscious crafter this season and use materials you would otherwise throw away to create your own easy Christmas ornament crafts. The title of this project says it all – use a toilet paper roll to create a pretty, colorful wreath. The more colorful you make this project, the better! In fact, you can include the kids in this project – who doesn't love easy Christmas kids crafts? If they're old enough to use scissors than their old enough to make their own wreath ornament! These little paper ornaments are sure to stand out from the more traditional ornaments on your tree. Why not make a few and hang them on doorknobs in your home? This is a great way to celebrate the holiday season and cut down on your overall trash haul.

If you are having trouble downloading our free eBooks, visit our FAQ page here: How to Download our eBooks.

From glitter and easy Christmas centerpiece crafts to easy Christmas gift ideas, this eBook is filled with Christmas craft ideas that are sure to get you excited for the holiday season. If doesn't have to be the coldest day of winter to appreciate the crafty potential that Christmas brings. In fact, there's no rule against unique, Christmas crafts for kids in July! It's the thought that counts, so get the family together and get to work.

With your free copy of 7 Easy Christmas Crafts, you can also subscribe to our Crafty Christmas Ideas newsletter to become part of a fantastic Christmas crafting community. In subscribing to the newsletter you will receive:
Three weekly emails with free crochet patterns, tips, collection pages and more.
New FREE projects made available to you throughout the year.
Access to our free pattern library full of 1000's more free patterns and tutorials.
The opportunity to share ideas and help others in the crochet community.
I know you have such a strong passion for all things crochet so you might as well download this 7 Easy Christmas Crafts eBook now, it's free! Be sure you subscribe to receive our newsletter Crafty Christmas Ideas, too. Don't wait any longer, all the best Christmas craft ideas and more are right at your fingertips. These easy DIY Christmas crafts will not only make you a better crafter but they will bring you a ton of inspiration for future projects!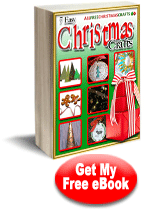 Download your free copy of 7 Easy Christmas Crafts today!
Your Recently Viewed Projects