Christmas Crafts for Kids: 12 Mason Jar Crafts
DIY Mason jar projects that the whole family will enjoy making.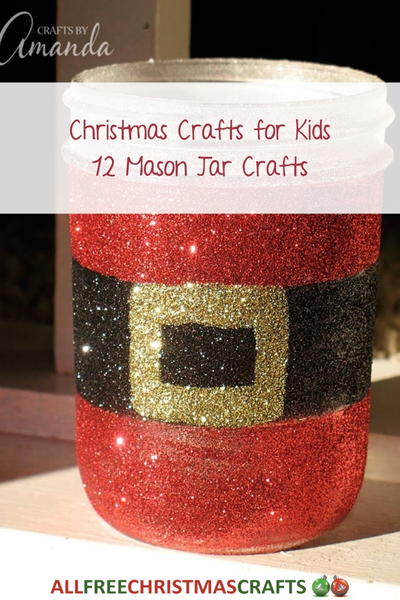 Christmas Crafts for Kids: 12 Mason Jar Crafts is a collection of projects that kids will love. Adults will love them, too. There are many Mason jar ideas on the internet and we have some of the best featured on AllFreeChristmasCrafts. Mason jars are wide-mouthed glass jars with screw tops that seal tightly. We are using the term "Mason jar" loosely because, as you will see, some of these Mason jar crafts do not actually show Mason jars. However, any of these homemade snow globes and glass bottle crafts can use Mason jars or vice versa.  

When we think back to childhood, many of us have memories of shaking at least one snow globe in our youth. Relive those fun times by creating a Mason jar snow globe with your child. With tons of different options, it will be difficult to limit yourselves to only one. The other Mason jar ideas in this collection include a variety of glass bottle crafts, from gifts in a jar to unique decorative Mason jar Christmas crafts. We are confident that you and your children will be saving every empty bottle from now on in order to make more of these incredible DIY Mason jar projects.
Table of Contents
Homemade Snow Globes
Arguably, some of the best glass bottle crafts are for homemade snow globes. A Mason jar snow globe is such a brilliant idea. Because of the airtight seal, water cannot escape. You can even seal these with glue as an extra precaution. Kids can use old toys, clay shapes, or simply glitter and paint to create the most amazing DIY snow globes around. Use them to decorate the mantel throughout the holiday season or give them as gifts. It's impossible to resist seeing a snow globe and not shaking it. Making your own allows you to construct exactly what you want to see, whether it's a snowstorm or a glow-in-the-dark scene.
Other Mason Jar Crafts
Glass jar crafts are not even close to limited to snow globes. Give a gift in a jar, such as hot cocoa that's ready to mix or play dough stacked in a jar to resemble the cutest snowman you have ever seen. Make candle holders that look just like a snowman or Santa's jolly belly. Use the lids of Mason jars to create the most beautiful homemade Christmas ornaments ever. Grandma will love hanging them on her tree. DIY Mason jar ideas allow for endless possibilities and kids get some of the coolest Christmas crafts around. 
What's your favorite material to craft with? Let us know in below in the comments!
Your Recently Viewed Projects