Breathtaking Poinsettia Wreath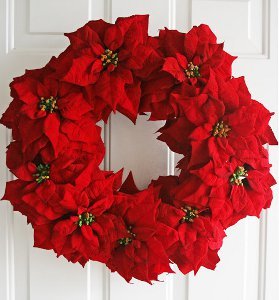 Breathtaking Poinsettia Wreath
This Breathtaking Poinsettia Wreath will have all your friends and family clamoring to know where you got it. You might be surprised that this DIY wreath is actually made of fake poinsettias. That's right - fake! Instead of spending a bunch of money on live flowers, try one of these DIY Christmas wreaths instead. The beautiful texture of the flowers overlapping and the bright red color make this wreath absolutely stunning. Hang this festive piece of DIY home decor inside or outside; you can't go wrong.
Time to CompleteIn an evening

---
DID YOU KNOW?
Poinsettias are arguably the most widely used floral accent in any piece of DIY decor during the Christmas season. We use them for DIY wreaths, DIY Christmas ornaments, and other seasonal decor. You may think that the combination of red and green that is common to the poinsettia is the only reason they are associated with Christmas, however there is much more to it. Poinsettias originated in Mexico and were brought to the United States by Joel Roberts Poinsett. You can probably guess the origin of their name! The association with Christmas goes back to the 16th century. Legend has it that, around this time in Mexico, there was a poor girl named Pepita who wanted to present the baby Jesus with a gift at the Christmas Eve Services, but couldn't afford anything. She was inspired (some say by her cousin, others an angel) to pick a small bundle of weeds on the side of the road. She then brought the bouquet of weeds to the church and placed them at the altar. Suddenly the weeds turned into stunning poinsettias before witnesses' eyes. Poinsettias were from then on known as "Flowers of the Holy Night" and are also considered to be the symbol of the Star of Bethlehem. 
Your Recently Viewed Projects