22 Fabulous Homemade Christmas Gift Ideas
Stylish and creative Christmas gift ideas for everyone in your life!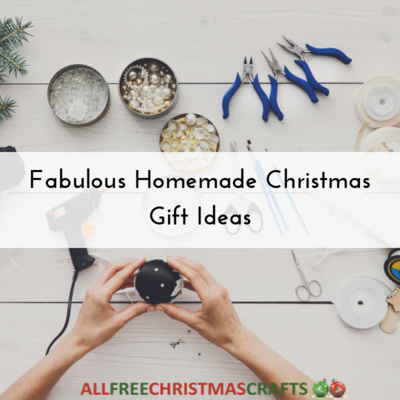 Don't spend a fortune on gifts this year. Instead, make creative homemade Christmas gifts at home. These 16 Fun and Fabulous Homemade Christmas Gifts for everyone on your list.

Make easy homemade Christmas gifts this year and save yourself a stressful trip to the mall. From hair pins to candles, this list is full of fantastic ideas for homemade Christmas gifts!

Family and friends will love your creations and ask for more homemade goodies next year.
Table of Contents
Cheap Homemade Christmas Gifts
No need to break the bank! Each of these cheap homemade Christmas gifts is fun and completely unique. Hair pins look great for when worn at a Christmas party and you can always use a scarf in the winter. You will love to create a delicious-smelling candle. And who doesn't love a morning cup of joe on a cold winter day? Homemade Christmas gifts allow you to use creativity and personalize presents.
Ideas for Homemade Christmas Gifts
Think outside the box this year. Each of these homemade Christmas gifts is completely unique and unlike anything you've ever seen! Make dishtowels that will brighten up your kitchen or notebooks to jot down thoughts. Hang a quilt on the wall or make fun jewelry and give it away to a stylish friend. The possibilities are endless with these ideas for homemade Christmas gifts.
Easy Homemade Christmas Gifts
Don't stress! Make these easy homemade Christmas gifts and relax instead. You'll surely get tons of gift cards this season - make a cool craft so you can stay organized. Celebrate the season with a fun frame and write thank you notes on brand new stationery. Traveling this season? Keep your passport safe with this homemade Christmas craft.
Creative Homemade Christmas Gifts
Get creative with your homemade Christmas gifts. You don't have to give the same gift every year - big or small, there are tons of crafty options for everyone. Little ones with love their new luggage tags and older folks will love their curling iron case. And who knew a paint pail and dishcloth could make for such creative homemade Christmas gifts?
Which gift would YOU want to be given? Let us know in the comments!
Your Recently Viewed Projects