Lump of Coal Christmas Soap
Sometimes a gag gift is the best way to make someone smile during the holiday season. Create your own Lump of Coal Soap for a particularly naughty friend. Use fabric or cardstock to wrap the soap before leaving it under the tree.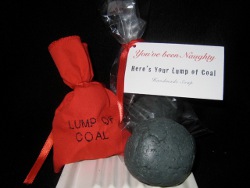 Soap Materials:
Melt & Pour Glycerin Soap
Gray soap coloring (or yellow, red, and blue food coloring)
Soap fragrance of your choice
Measuring cup (microwave safe)
Stirring spoon
Microwave
Cutting board and knife
Paper Packaging Materials:
Cardstock Paper (or business card perforated paper)
Hole puncher
Ribbon
Small cellophane bag
Computer & Printer
Fabric Packaging Materials:
1/4 yard red fabric
Ribbon
Iron-On Interfacing & Iron
Ruler
Scissors
Sewing Machine and/or Serger
Soap Intructions:
Cut melt & pour soap into ice cubed sized chunks.

Add approximately 8 oz of soap into a measuring cup. Microwave 50 seconds and then additional 15 second increments until all soap is melted. Stir with spoon.

Add soap fragrance and stir.

Add gray (or yellow, red and blue) color additive and stir until you achieve your desired "coal" color.

Continue to stir while soap begins to solidify in the measuring cup for 2 to 5 minutes.

As the soap cools and is soft to the touch, start forming rounded balls with the soap by rolling in your hands like clay.

Allow soap to solidify completely.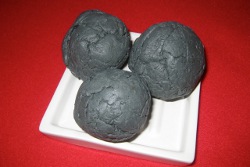 Paper Packaging Instructions:
Using your word processing software on your computer, design a tag for your soap with phrases such as, "You've been Naughty - Here's your Lump of Coal...Soap" Be creative! If you have business card paper, use business card template pre-loaded on your word processing software.

Print out your tag / card on business card paper or cardstock.

Cut out your tag and punch a hole in the upper left corner of the card.

Place soap in the cellophane bag and secure with the ribbon and attach the card.
Fabric Packaging Instructions:
Cut 2 rectangles of red fabric 4" X 6".

Optional Lettering: If your sewing machine can sew words/embroidery (and you wish to sew "Lump of Coal" onto your bag), then cut 1 rectangle of interfacing 75" X 5.75" or 3 3/4" X 5 3/4". Iron interfacing onto the wrong side of one rectangle of the red fabric. Using your computerized sewing machine, program "Lump of Coal" and sew onto the right side of red fabric with interfacing on the back. Alternatively, if you do not have a computerized or embroidery sewing machine, you can paint the words with fabric paint.

Optional: Fold down 1/2 inch top of red fabric and sew in place, OR serge finish red fabric on top side.

Place right sides of red fabric together. Using a 1/2 inch seam allowance, sew 3 sides together to make a pocket / bag.

Turn bag so that the right sides are facing out.

Place soap in the bag and tie with ribbon to close.
How to Make Lump of Coal Christmas Soap:
Find more projects and tutorials from Craft Designer Caroline Dunn.
Your Recently Viewed Projects