6 Craft Ideas for Christmas Decorations
If you're looking for a fun and simple way to get in the holiday spirit, you can't go wrong by making with a few Christmas crafts. Cover your space in Christmas trees, ornaments and more for instant dose of holiday spirit. What's great about ideas for Christmas decorations to make is that you can create them all year long and save them up for later. Whether you're looking for paper Christmas decorations to make or want to use materials such as wood and burlap, you're sure to find a project in this list that suits your sensibilities.
Start brainstorming ideas for free Christmas decorations to make now so you can have a bunch to hang and display when the season rolls around. The less you have to craft once the Christmas season starts, the more fun you can have with friends and family members. If you're a beginner, start your decorating by hot gluing old sewing patterns to a Styrofoam cone to create a festive tabletop tree. If you're up for a challenge, use woodworking tools to create a hanging tree. Craft ideas for christmas decorations can be suitable for all types of crafters and you don't have to look far for great ideas.
6 Craft Ideas for Christmas Decorations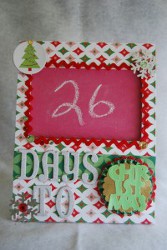 Holiday Countdown Calendar: You can't go wrong when you plan ahead. This is one of those Christmas decorations to make yourself and share with the family later on. Have your kids record the amount of days left until Christmas by writing the number in chalk. This is a great way for kids to practice handwriting and increase awareness about traditions. Take advantage of the time spent together and explain why this holiday is so meaningful. Best of all, this calendar can be reused year after year. If you're looking for ideas for Christmas decorations to make this season, consider this simple project.
Burlap Advent Calendar: Modeled after a Pottery Barn product, this craft tutorial is a simple pleasure that's perfect for the holiday season. If you prefer understated decor crafts during the holiday season, then this advent calender will certainly suit your needs. Use mock burlap or linen instead of actual burlap to cut costs. If you're looking for some Christmas decorations to make before the holiday season starts, this is an ideal project. Don't worry if you don't have a sewing machine - you can use a hot glue gun to create the pockets. Craft ideas for christmas decorations have never looked this cool.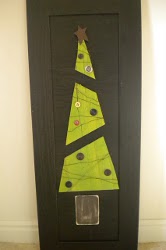 Split Tree: Looking for some more heavy duty ideas for Christmas decorations to make? Start with a piece of scrap wood and turn it into a tree you can display on your mantel. For this project, you'll need access to saws and other woodworking materials. If you're up for the challenge, then you won't be disappointed with the results. Use acrylic paints and embellishments such as buttons and ribbons to bring your tree to life. Once you make this project, you'll have a ton of other great ideas! Homemade christmas decorations can really change the look and feel of your space.
Sewing Pattern Christmas Tree: Non-sewers, you don't have to run away from this project. You don't need a sewing machine or even a needle and thread. Simply use old patterns as the basis for your project and you'll be off and running. Dip into your recycling bin for paper christmas decorations to make. Rip up the patterns and use a hot glue gun to adhere eash piece to a Styrofoam cone. This project is so easy but the understated colors make it extremely festive and elegant.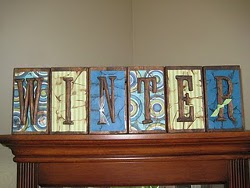 Seasonal Blocks: Celebrate winter (and all of the other seasons) with this simple craft. With just one 2X4 plank, you can create blocks that display the season in style. Display these blocks on your table or mantel all year long - just turn then over when the seasons change. Keep warm with Christmas decorations to make at home and show off your project to your kids. This project will help teach them about the seasons and show how the weather changes as time goes by. Fun craft ideas for christmas decorations really make the season special.
Handy Reindeer: Need an after school activity during the holiday season? Have your kids trace their hands and make their own reindeer. With contruction paper and markers, you can help them get creative and keep boredom at bay during those long, cold winter afternoons. Kids enjoy handmade Christmas decorations to make when the project suits their skills. Make sure they add a red nose to one of their creations so Rudolph isn't left out of the fun.
Remember, if you enjoyed these 6 craft ideas for Christmas decorations, then you'll love getting even more projects in our free eBook, 8 Unique Christmas Decorations to Make.
Your Recently Viewed Projects