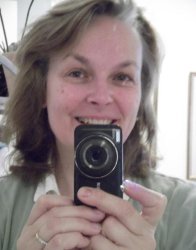 Hi, I'm Andrea (Bea) Vonk. I come from a family of artists, craft enthusiasts and teachers, and have always had - from an early age - either a paintbrush or pencil in my hand, a pair of scissors and paper, or whatever else that came to hand to craft with. I have been brought up in a spirit of thriftiness and I think it is more fun, more rewarding and more fulfilling to make something out of nothing. Modern Country Lady is my blog on which I like to share my projects and tutorials.

I believe that all materials, however plain or unassuming, can be used to create new and exciting projects.

On the professional side, I was trained as an artist,and have worked on many commissions over the years, but in the last 6 years I worked in an totally non-craft related industry as a multi-lingual project manager. I felt a real yearning to be back in the world of creativity, so I set up my blog with craft projects and tutorials in 2010, and a blog-related Facebook page in order to reach out, connect and share with other creative people all over the world. Creating the blog had helped me take a step further on my creative journey, and I have now set up my own company, called My Aunt Agatha, for which I work as designer and enterpeneur.

I am also the fiancee of a lovely guy, and mom to 4 "furkids" (who all feature on the blog from time to time ). I find lots of inspiration for crafting from discarded material.
Projects on AllFreeChristmasCrafts:

Links:
Modern Country Lady Blog
Like Modern Country Lady on Facebook
My Aunt Agatha Etsy Shop
Your Recently Viewed Projects