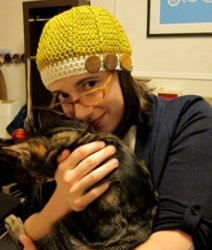 I'm Haley Pierson-Cox, a crafty, granny glasses-wearing Brooklyn gal with a giant crush on all things DIY. I write The Zen of Making, a DIY blog featuring crafty tutorials, handmade geekery, vegan goodness, and all things domestic. (Okay, and a few cat photos.) I'm also a blogger at craftzine.com and a contributor to Craft Test Dummies, where I cover needle crafts, sewing, and yarn crafting.
As a kid, I made Rube Goldberg machines in my bedroom and filled notebooks with elaborate stories and drawings. Today, I'm a technical craft writing and tutorial-obsessed book nerd with a background in marketing who's living--and loving--the DIY life. I spend my days making things and writing about the process, which is a pretty perfect job for a fidgety, obsessively organized kid with too much imagination who didn't know she'd grow up to be a craft writer!
Things that I love: Sewing, crafting, DIY, crochet, embroidery, kitties, vegan goodness, my awesome husband, tutorials, right angles, beer.
Things that I could live without: Extraneous apostrophes, spiders.


Projects on AllFreeChristmasCrafts:

Links:
The Zen of Making Blog
Your Recently Viewed Projects