Put a festive spin on your food storage this Christmas with these cheerful Holiday Holly Jolly Jars. This step-by-step tutorial shows you how to make cute covers for glass jars that will keep your sweets fresh. Fill a set of jars with candy canes, gumdrops, or chocolates and hand them out to family, friends, and neighbors. If you'd rather not fiddle with perishable gifts, store ornaments in the jars and set them on your mantel or table. They make for beautiful tabletop decor pieces for the holiday season.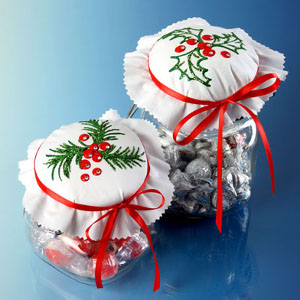 Materials:
Tulip® Fashion Glitter® Emerald Fine Jewel
Tulip® Dimensional Fabric Paint (Leaf Green)
Tulip® Dimensional Fabric Paint (True Red)
Aleene's® Original Tacky Glue®
Tulip® Glam-It-Up!™ Iron-On Crystals™ Aurora Borealis
Measuring tape
¼" Satin ribbon – red – 1½ yards
Scissors
Pinking shears
Scratch paper
(2) Canning jars
Batting
Cotton fabric – white – ¼ yard
Tape
Tweezers
Beginning Instructions:
Cut two 9" circles of fabric with pinking shears.
One at a time, place fabric round over the desired pattern so that design shows through and is centered in the middle of the round.
Pine Branches Instructions:
Squeeze Leaf Green Slick 3D Fashion Paint over pine branches then immediately sprinkle Emerald Glitter over paint. Let dry, then shake off excess glitter onto scratch paper and return to container for reuse.
Use True Red Slick to create berries. While paint is still wet, use tweezers to place crystals onto one side of berries. Let dry over night.
Holly Leaves Instructions:
Squeeze Leaf Green Slick over leaf outlines. Let dry completely.
Use Original Tacky Glue to create vein lines within leaves. Tip: To achieve a fine line when squeezing out glue, wrap a strip of tape around the tip of the bottle in a cone shape, then cut off the very tip of the cone.
Apply glue. While the glue is wet, immediately sprinkle Emerald Glitter onto the glue. Let dry then shake off excess onto scratch paper.
Create berries with True Red Slick and apply crystals as in the step above. Let dry overnight.
Finishing Instructions:
Cut batting the same size as the lid of the jar. Glue batting to the lid.
Place painted circles on lids and tie with ribbon to complete.
---
Find more tabletop crafts with our awesome eBook, DIY Christmas Decorations: 12 Tabletop Christmas Trees. Tabletop trees make one of the greatest recycled Christmas decorations because you can oftentimes use what you already have and save money.
Your Recently Viewed Projects