The Crafty Chica Collection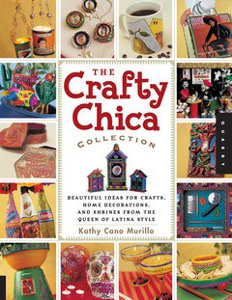 The Crafty Chica Collection
by Kathy Cano Murillo
Gifted by Quarry Books
www.quarrybooks.com
Reviewed by Kathryn Wright, Editor, FaveQuilts.com

Bring some real Latin flair to your crafting using the colorful and quirky projects designed by Kathy Cano Murillo, author of The Crafty Chica Collection. Whether you're looking for something to add character to your home during the holidays or simply a new addition to your everyday life, this collection of decorations, accessories, and home decor items have an authentic blend of folk art and modernity that artistic crafters will really appreciate. You'll not only get to make unique projects, but also learn a little about the cultures they come from; nothing's more rewarding!

There are over 100 pages filled with crafts, templates, and vibrant color pictures that will inspire your daring side. Even if you've never experienced Latin culture before, don't be afraid to take this oppotunity to learn, as Kathy Cano Murillo is ready to share her knowledge with the world. Not only is there a helpful introduction to the book, but also introductions to each of her projects to help readers best feel where their inspiration can come from.

The Crafty Chica Collection is divided into 5 main categories, Home Accessories, Gardening, Fiesta, Furnishings, and Personal Accessories. As soon as you turn the page, you'll begin to see what makes any of these projects unique. They're colorful and always have personal touches, and they're also very thrifty. You'll be able to use leftover craft materials as well as objects you may just have lying around the house to create entirely new crafts that look like they're from a totally different place.

I personally recommend the "Tissue Flower Topiary" (pg. 70) which combine all of the beauty of a Mexican flower arrangement with the lightness of tissue paper. Cano Murillo presents a lush craft that looks just like the real thing (and will probably last you much longer).
Your Recently Viewed Projects