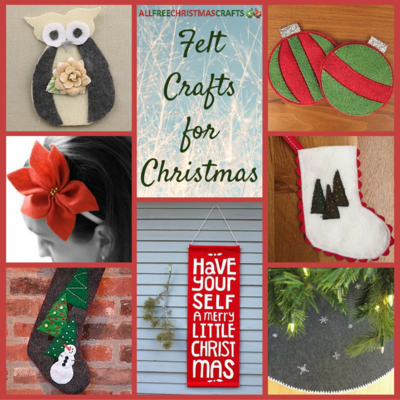 Felt is one of the most versatile craft items there is. This editor can't get enough of it. Not only does it come in a huge variety of colors, but it's easy to cut, sew, layer, fold, and glue to name only a few of the benefits.

The felt projects in this collection of felt Christmas crafts span from ornaments to wearable crafts, and everything in between. You will find all sorts of decorations that you can make to gussy up your home decor or Christmas tree or give as gifts. Since felt crafts are usually easier and faster than a lot of other Christmas crafts, you'll have plenty of time to make all of these fabulous felt projects.

In this collection, we have included Christmas crafts that use felt sheets but also a few wool felting projects. That way, if you don't like one type of felt, there are still some awesome felt crafts you can make for Christmas. Just take a look at these Felt Christmas Ornaments, Felt Christmas Stockings and DIY Wreaths, Wearable Felt Patterns, Felt Christmas Tree and Other Felt Christmas Decorations lists and you will see how handy felt can be to have on hand at all times.

Another very important benefit of felt is that it's really inexpensive! There's really no reason you should not be using felt in your usual crafting routine, and these utterly fantastic felt craft ideas will certainly help convince you! 
Table of Contents
Felt Christmas Ornaments
OMG, these ornaments are amazing! Whether you are into animals, food, nature, or simply elegant DIY ornaments, you will find something to love. Oh, we can't forget Christmas elves! There's a cute little elf ornament you can make with felt, too. Get ready to overhaul your Christmas tree with these incredible felt ornaments. 
Felt Christmas Stockings and DIY Wreaths

These felt craft stockings and wreaths are just what you need to make your house a home. A felt wreath on your front door is warm and welcoming to anyone who walks up, and these stocking felt patterns are so fun you'll want to make one for each member of the family. Felt stockings filled with goodies can't be beaten. The Felt Ball Overload Wreath can even be left up year-round if you use a rainbow of colors, as in the tutorial.
Wearable Felt Patterns
This list exemplifies why felt is such a versatile crafting material. Not only can you decorate every room in your house, you can make wearable crafts using felt! From a baby onesie to bracelet to headband to the cutest Christmas tree pins you have ever seen, this list has it all and more
Felt Christmas Tree and Other Felt Christmas Decorations
Tabletop trees are amazing and using felt to make them is a super smart decision. Save money by making these table decorations by making them yourself. Save more money by making coasters, garland, banners, and tree skirts. If you are planning on having a Christmas dinner party, make these Snowy Chimney Silverware Pockets as part of your table settings. These felt projects for your home will knock your socks off, truly! 
Which project was your favorite? Let us know in the comments!
Your Recently Viewed Projects