36 Really Easy Christmas Crafts for Adults
You're in luck - we have the best beginner craft ideas for Christmas right here!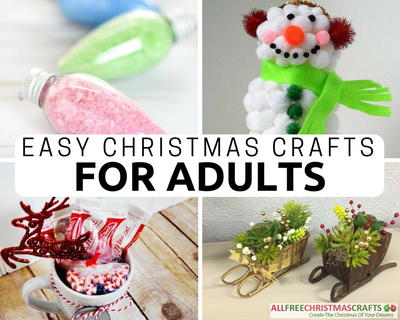 Crafting is such a fun activity. You can relax and unwind from a long week with a great craft project. However, if you're not an avid crafter, you might find the idea of a craft project more intimidating than relaxing. That's why we at AllFreeChristmasCrafts have put together a collection of easy Christmas crafts!

These beginner craft ideas are quick and easy crafts that are perfect to ease you not only into the Christmas spirit, but into the crafting spirit as well. You can make easy homemade Christmas ornaments, DIY Christmas decorations, and even homemade Christmas gifts in a stress-free way. Learn how to craft with these beginner projects, and soon you'll work your way up to intermediate and advanced!

Get started with this awesome video on how to make a Festive DIY Candle Holder!
Table of Contents
Easy Homemade Christmas Ornaments
These easy homemade Christmas ornaments will liven up your tree in a hurry! Grab beads, buttons, and various other embellishments in festive colors in order to make your tree really pop. These ornaments will barely cost you a dime, and they're so fast and simple.

If you're short on time during the holidays, as most of us are, make one of the easy Christmas ornaments below. This way you get beautiful handmade Christmas ornaments in no time at all. You can use different materials like bath salts and wood slices to create something totally unique. Chances are, you have most of the supplies in your home already!
DIY Christmas Decorations
Decorate your home this Christmas with homemade decorations! These DIY Christmas decorations are perfect for decorating any room in your house. From wreaths to tabletop trees and so much more, you can decorate your home with fun and easy crafts.

Here you'll find ideas for decorating with these free tutorials from our favorite bloggers. You can learn how to make decorations that are low-budget and a lot of fun to create. Best of all, many of these decorations can be brought to life with just a quick trip to the dollar store. From a Faux Birch Outdoor Christmas Arrangement to a Quick and Simple Yarn Tree that you can place on the counter, your home will be a true Christmas wonderland.
Christmas Craft Ideas for Gifts
Gifts are so much more meaningful when they're homemade, and it's easier to make a gift than you think! These homemade Christmas gifts are great crafts that are expressive and fun.

Treat your loved ones to easy homemade presents when the big day rolls around. Here you'll find ideas to make homemade Christmas gifts that they'll cherish for years to come. Get ready to be everyone's favorite aunt, because with these handmade ideas, your thoughtfulness and creativity are sure to stand out. No matter who you have on your list this year, these unique crafts are perfect for recipients of any age.
Easy Christmas Crafts to Make and Sell
These free tutorials are full of easy craft ideas you'll love to make, and they might just help you earn a bit of extra gift money this season. Check out the easy patterns and instructions to learn how to make a variety of projects that are perfect for your local holiday craft fair.

Use your extra pieces of felt to make a Pretty Poinsettia Pin or put your crochet skills to the test with simple Santa Hats for Everyone. These easy Christmas crafts to make and sell are just what you've been looking for. It doesn't take a lot of time to create something that others will adore.
What's your favorite thing to make for Christmas? Tell us below!
Your Recently Viewed Projects