How to Use Leftover Wrapping Paper (Plus 7 Crafts!)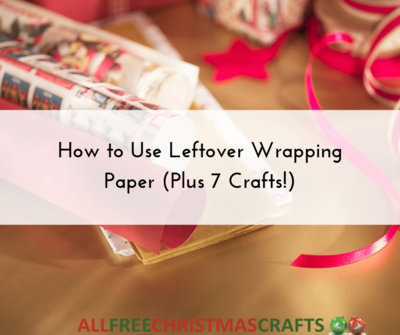 If you're anything like us, Christmas morning usually ends with mountains of gift wrap waiting to be thrown out. It can feel extremely wasteful to fill garbage bags with wrapping paper, but since most recycling centers don't accept giftwrap, you might feel like you have no choice.

What if we told you there are tons of ways you can reuse your wrapping paper? We've done a little research and found some of the most useful and creative ways to repurpose your Christmas gift wrap, ranging from festive decor to DIY greeting cards.

Remember to scroll all the way to the end, because we've picked out our top crafts to reuse your wrapping paper!
Table of Contents
Ways to Reuse Wrapping Paper
Say goodbye to the days of kicking all of your used wrapping paper to the curb. Not only is it wasteful for the environment, but it's wasteful on your wallet! You can save a lot of money by making decorative items out of wrapping paper that you've already purchased and used, so why shell out your cash at a local retailer? Save resources and save your money with these inventive uses for Christmas wrapping paper:
Make festive envelopes. If you send relatives a greeting card around the holidays, you can ship it to them in an in-season envelope made from scratch! This idea is also great if you have family or friends with a Christmas list that strictly consists of gift cards. Gift cards can be pretty anticlimactic to open, but when you dress them up with an inventive envelope, it makes them that much more special.
Shred it into confetti. This is an idea that has a handful of uses. You can make festive confetti to stuff in a glass ball ornament for a unique accent to add to your tree. You can also use the confetti as seasonal package stuffing when you pack fragile gifts into packages to keep them safe. Or, you could simply toss it around your home to add an extra aspect to your holiday decor.
Form it into a gift bag. Make gift wrap out of gift wrap! The prices of gift bags at the store can be laughably expensive. Tighten your purse strings and make unique gift bags of your own with wrapping paper you've already used.
Make book covers. If you decorate your home with a collection of coffee table books, the easiest way to turn those into a Christmas accessory is to wrap the covers in holiday wrapping paper! If you're feeling extra creative, you could even wrap them up and tie them with a bow like an extravagant gift box.
Use it to make garland. A hodge-podge of used Christmas wrapping paper looks so unique and interesting when it is cut up into fun shapes and strung up on your walls. If you have a limited amount of each style of gift wrap, this is the perfect way to blend them all into one project.
Cut it into paper snowflakes. Making paper snowflakes is such a fun craft to do with your kids, and to use wrapping paper instead of the traditional blank paper will make this craft even more special.
Frame it. If you have wrapping paper that was particularly wonderful, you can frame it and hang it up on your wall for modern and minimalist holiday decor.
Cut it into bookmarks. For those of us who are crazy about Christmas, everything gets a holiday spin around Christmas time. You can give your winter reading a little North Pole style by marking where you left off with a bookmark made of your used wrapping paper.
Turn it into napkin rings. Give your Christmas dinner place settings an extra holiday flair by cutting your used wrapping paper into strips and using it to cinch in your napkins!
Christmas Wrapping Paper Crafts
These crafts are a great way to get your creative juices flowing when it comes to recycling your Christmas wrapping paper! From tabletop trees to unique paper wreaths, the possibilities are endless when it comes to Christmas wrapping paper crafts.
What's your favorite way to reuse wrapping paper? Share with us in the comments!
Your Recently Viewed Projects