Cultural Christmas Crafts: 22 Traditional Crafts From Around the World
Traditional international Christmas crafts that are sure to inspire and impress.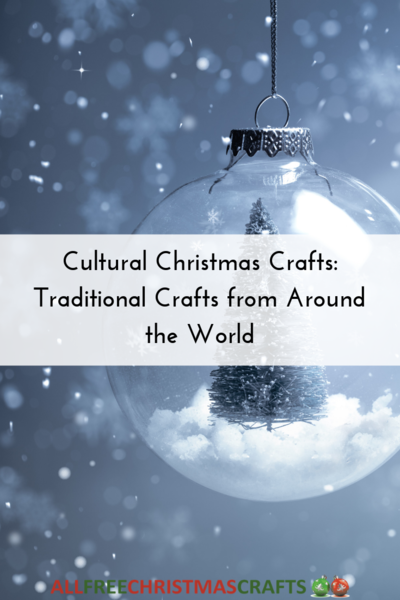 We have some wonderful Christmas traditions here in America, but around the world, the holidays look a little different! Every country has uniquely impressive and entertaining traditions around the Christmastime. That's why we are featuring some homemade Christmas ornaments and other holiday crafts inspired by other areas of the world! With this collection of traditional crafts from around the world, you can dip your toes in the Christmas season as seen around the globe.

It's fun to pick up on traditional crafts from around the world and incorporate them into your own DIY Christmas decorations. This list could be a mile long with all the amazing traditions, but we have narrowed it down to some favorites.

For more unique decorative craft
ideas, click here! 
Table of Contents
Asian Crafts for Christmas
Inspired by the beautiful decorations found in Asia, including Japan and China, these Christmas crafts are delicate and detailed, perfect for many areas of your home. Japanese Christmas crafts are very popular around the world and inspire a lot of ideas. Find some of these in the form of baubles and other ornaments, tabletop trees, and paper crafts. You will fall in love with these Asian-inspired ideas for your home this Christmas and next.
European Christmas Crafts
From Eastern Europe to Western Europe, these fresh cultural Christmas craft ideas will inspire anyone to take a trip across the pond. In this section, you will love looking at the British Christmas crafts such as figgy pudding and Christmas crackers. You won't believe you missed out on putting a DIY Christmas pickle on your tree, which is a tradition from Germany. Speaking of traditions, craft up some spider-themed decor to pay homage to Ukrainian Christmases.
Scandinavian Christmas Crafts
Even though Scandinavia, which includes the countries of Denmark, Norway, and Sweden, is technically Northern European and would fit in the previous section, these Christmas crafts are so unique to this area that they deserve their own. Scandinavian Christmas crafts are simple and clean, with vintage and traditional charms that are hard to find elsewhere. We promise you will want to make all of these Scandinavian crafts for your own Christmas.
Your Recently Viewed Projects