24 Paper Christmas Decorations and Other Christmas Paper Crafts
You will love these projects for DIY home decor, crafts for kids, DIY paper ornaments, free printables, and more!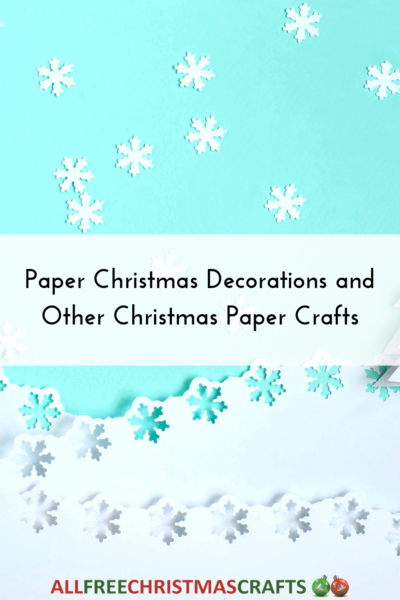 If you don't already know how versatile paper can be, then you are in for quite a shock. It's particularly wonderful when used for DIY Christmas decor. In this collection of 24 Paper Christmas Decorations and Other Christmas Paper Crafts, we have collected some of the more unique paper-based Christmas crafts on the site. These craft projects range from a paper Christmas tree to toilet paper roll crafts. With paper, there are so many varieties that you can really do incredible things. No matter what your style, there are some fabulous paper craft ideas for your whole house and family.

With these Christmas paper crafts, you will find materials such as newspaper and book pages as well as cardboard and cardstock. Many use more materials than paper, but the main material in all of these is our favorite tree product! Several of these Christmas paper crafts allow you to use old books or newspapers, which saves money and makes it truly (red and) green. Recycled crafts are the best for a reason and this collection has plenty. If you really want to reuse and repurpose, check out the Paper Crafts for Kids category. So many toilet paper roll crafts and other creative ways to use old paper materials. Also, do not leave this page without looking at the amazing free printables we have featured. So cool!
Table of Contents
Christmas Paper Decorations
Tabletop trees? Check. Amazing garlands for your walls or tree? Check. Other amazing DIY Christmas decor? Yes, we've got it all. These paper Christmas decorations are not only gorgeous but easy and inexpensive to make. You will love the innovative paper craft ideas found in this section. The Christmas crafts here are perfect for walls, tables, trees, and more. There's even a stunning paper-based mirror (though you'd never guess it was paper) that would make a brilliant gift for any family or friends who need a statement piece for their home.
Paper Ornaments
DIY paper ornaments is a pretty broad category. In this category, we have some breathtaking ornament crafts to make. All of them are made with different types of paper, such as cardstock, book pages, scrapbooking paper, and even old Christmas cards. What great stash and scrapbusters these homemade Christmas ornaments are! Many of these awesome paper ornaments could even be used year-round if you use neutral colors. Get started right away and cover your tree with these pretty paper ornaments.
Paper Crafts for Kids
We can't forget the kids! A majority of paper-based crafts are made for younger crafters because paper is so easy to work with. These paper crafts for kids are some of the most fun ideas and projects they can make for Christmas. From DIY paper ornaments to paper plate angels and beloved toilet paper roll crafts, these Christmas crafts will keep the kids busy for hours. Some are so fun that mom or dad will want to jump in and help, too.
Free Christmas Printables
Ah, free printables! Who doesn't love when all the work is done for you? These fantastic free Christmas printables will give you a little more time to enjoy the holidays. You will love the DIY wall art to print and hang up throughout the season. You and your kids will love the coloring pages and the bingo game. Though there were a few printables in the above categories, these are the ones that involve the least amount of work on your part. In just a few steps you can have a paper nativity scene or a paper gingerbread village, along with other decorations or activities that the entire family will appreciate.
What's your favorite Christmas paper craft? Let us know in the comments!
Your Recently Viewed Projects