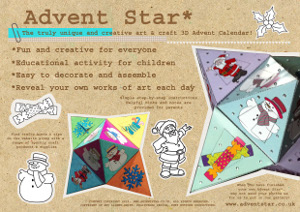 Advent Star Calendar
Gifted By: Advent Star
www.adventstar.co.uk
Reviewed by Dana Byerwalter, Editor of AllFreeChristmasCrafts
Christmas crafts are always the best when they're fun for the whole family, and Advent Star is an absolutely perfect family Christmas craft. Unique in its design, this wonderful calendar combines the joy of coloring with paper trimming and folding! Children can learn about 3-dimensional shapes while also stretching their creativity! Adults must work with children on some of the trickier tasks like folding along the lines of the thick cardstock and especially cutting the little numbered doors. When finished, the Advent Star calendar is a lovely Christmas decoration that your child can display proudly. Hang the star with a loop of ribbon or set it on a tabletop as a beautiful dimensional decoration. If you hang it up, just be sure your kids can reach the star to open the doors! Kids will absolutely delight in opening the doors on the days leading up to Christmas because each day, they are revealing their own beautiful artwork.
Advent Star currently has three calendars available: a colour yourself kit and 2 pre-coloured kits in primary and pastel colors. Advent Star will soon be adding a fourth design which will be totally plain for the crafter to both draw on and decorate! Your children can use crayons, colored pencils, markers, glitter, stickers, and any other embellishments they'd like in order to complete this wonderful craft. If you buy the pre-coloured kits, your kids are welcome to add extra decorations to the star. Encourage them to expand their creativity when making this beautiful Advent Star!
I made the colour yourself kit, and I enjoyed this project immensely! I found permanent markers to work very well on the smooth cardstock, and I love how the completed craft looks! It was so fun to decide what images to place behind the different doors. For example, I put an image of a delicious Christmas turkey behind the Santa door (because I bet Santa loves turkey)! I put an image of a present behind one of the Christmas tree doors, and a snowman behind the snowflake (because snowmen are made of snow)! This craft is perfect for rainy days, a classroom Christmas project, a Christmas party, and whatever other occasions you can think of! Your kids are sure to love this unique and fun Christmas craft.
Your Recently Viewed Projects