Elmer's Craft Bond Photo Corners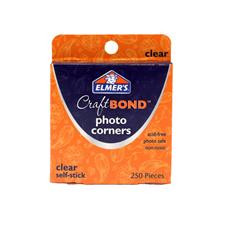 Elmer's Craft Bond Photo Corners
Gifted by Elmer's
www.elmers.com/
Reviewed by Kathryn Wright, Editor of AllFreeChristmasCrafts.com
Any Christmas crafter knows that you can't get any work done without having the proper supplies. Whether you're making homemade Christmas ornaments or a whole set of pages for your lastest Christmas album, you'll need Elmer's Craft Bond Photo Corners to get the job done efficiently and cleanly. These adhesive corners stick to multiple kinds of surfaces securely, ensureing that your next Christmas craft project will last for years to come without falling apart.
Sometimes, we take for granted how useful crafting supplies like these photo corners are. With this pack of 250 pieces, one could easily put together a new scrapbook without having to worry about ripping pages with tape or getting wet spots with glue. Elmer's has been the experts on all things crafty for decades, which is why it's no surprise that their products are so reliable.
One major benefit to both crafters and non-crafters alike is the fact that while the Elmer's Craft Bond Photo Corners are durable and adhesive, they're also removable. This means that if you make a mistake, all you need to do is peel off whatever photo or embellishment you're working with and start over. It's not hard to count the number of times a scrapbook page has been ruined or even a Christmas present exposed because of tape. This never has to be a problem again, which means you won't have to waste time back at square one when your latest project doesn't look quite right.
The Elmer's Craft Bond Photo Corners are a must-have for crafters of all kinds, so make sure you have a box in your crafting drawer before you start on your next Christmas craft. No matter what your age or skills may be, you'll find these adhesives to be useful in almost any crafting situation.
Your Recently Viewed Projects