20+ Wine Bottle Crafts for Christmas
These Christmas craft ideas with wine bottles and corks are fun ways to upcycle!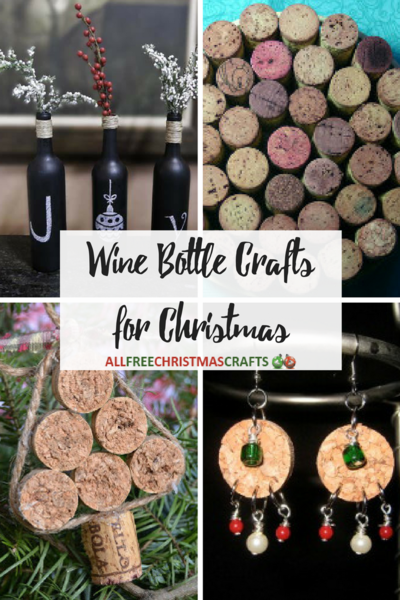 The holiday season can be stressful, and sometimes you need to kick back with a glass of vino and unwind. You might think that the only way to cap off your night is by dropping the empty bottle in the recycling bin, but think again. In fact, there are so many great wine bottle crafts that you can make specifically for Christmas. In this collection of 20+ Wine Bottle Crafts for Christmas, you'll find craft ideas for wreaths, ornaments, decorations, jewelry, and so much more. You'll find both glass bottle projects and wine cork crafts, so you can rest assured that none of the bottle goes to waste.

Wine cork craft ideas are super easy to make and don't require a ton of expensive tools. You can also camouflage the look of wine corks, so people may never know where your earrings, bracelet, or ring came from in the first place. If you only have a bottle on hand, you can simply fill it with lights or decorate it with paint. There are so many wine bottle crafts, so both beginners and experts alike can spend time making meaningful DIY Christmas crafts. 

If you love Christmas all year round, be sure to sign up for our free eNewsletter! It's the perfect way to have tons of fun and creative Christmas ideas delivered directly to your inbox. Click here to subscribe!
Table of Contents
Do you make a lot of recycled Christmas crafts?
Let us know in the comments below!
Your Recently Viewed Projects