26 Ways To Recycle Christmas Cards
This collection of recycled Christmas card crafts has plenty of ideas to save those old cards from the trash!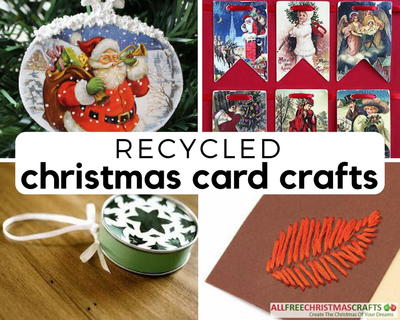 Before you throw those old Christmas cards in the trash, consider these 26 Ways to Recycle Christmas Cards. You probably didn't realize how many recycled Christmas card crafts there are in the world. Christmas cards are often meaningful and can be kept as a keepsake, but a lot of times, they end up simply taking up space.

Cut your clutter and make DIY Christmas decorations with this list of greeting card crafts. Best of all, you don't have to spend a ton of money on paper or supplies. Simply use what you have and keep the spirit of the Christmas season going with these genius and creative craft project idea.

There are so many great ways to reuse old cards and create recycled crafts. You can create gift cards, ornaments and even wrapping paper using old greetings from friends and family members. In fact, there are so many ways to recycle Christmas cards, you might not know what to work on first. Don't worry, there are plenty of creative DIY Christmas decorations to keep you busy until the holiday rolls around once again.
Table of Contents
Greeting Card Crafts
If you're looking for ways to use recycled Christmas cards, then look no further. Our collection of crafts is full of ideas to help you recycle Christmas cards in the most fun and useful ways possible. Forget buying tags, bookmarks, and Christmas ornaments; make your own out of last year's cards!

You can even make a beautiful book that is designed to save all your favorite Christmas cards for years to come. After all, the holidays are the perfect time to make memories and treasure the love from your family and friends. There might just be the perfect green solution here for you!
DIY Christmas Decorations
Here you'll find recycled Christmas card crafts to decorate with from all over the web. You'll love learning how to make decorations that are low-budget and a lot of fun.

Grab your collection of last year's Christmas cards as well as some glue and a pair of scissors. Soon, your entire home will be decorated with cards that you thought were going in the trash. Recycling Christmas cards is one of the easiest ways to do something nice for the planet this holiday season. It feels good to be resourceful!
More Ways to Recycle Christmas Cards
There are so many more ways to recycle Christmas cards, so be sure to tuck a few of these ideas away for a rainy (or snowy day). Whether you want to make DIY Christmas decorations or create your own wrapping paper, there are plenty of crafty options. Get creative and try something new - these recycling crafts will inspire you to go green all year long.

If you love a good idea for a recycled Christmas card, it's your lucky day. You can also learn how to create Advent calendars, ornaments, and other one-of-a-kind craft projects all thanks to your mailbox. This is a great way to save money on crafting and help the planet at the same time.
How do you like to use old Christmas cards? Tell us below!
Your Recently Viewed Projects