Real vs Fake Christmas Trees: Which is Better?
By:
Krista Childers, Editor, AllFreeChristmasCrafts.com
If your family celebrates Christmas, then you probably already know what your family prefers in terms of a Christmas tree in your home. Most of us grew up with traditions of either real Christmas trees or artificial Christmas trees. Perhaps your family changes it up and alternates, or maybe sets up both. However, have you ever considered the alternative but want to know more? If so, you are in the right place. So, Real vs Fake Christmas Trees: Which is Better? Before you get out your DIY Christmas decorations, consider which Christmas tree types are right for you by learning about all of your options.
Though Christmas has been celebrated for thousands of years, the use of Christmas trees as well-known decorations in the home was not evident until around the 12th century in Europe. Real Christmas trees didn't find their ways into American homes until the late 1700s to early 1800s. Artificial trees were developed in Germany in the 1880s or '90s to offset cutting down real evergreens. This is because cutting down trees was leading to deforestation. These first artificial trees were actually made of goose feathers that were dyed green to mimic evergreen tree branches and then arranged on a wood stand. Modern use involves a variety of Christmas tree types, from various living trees to artificial.
---

Not into full-size trees? Then you must check out our latest FREE eBook, DIY Christmas Decorations: 12 Tabletop Christmas Trees. Tabletop trees are great DIY Christmas decorations and make some of the greatest recycled Christmas decorations because you can oftentimes use what you already have and save money.
---

Real vs Fake Christmas Trees: Which is Better?
Table of Contents
Though the Germans made fake trees using feathers, dye, and wood, most modern artificial Christmas Trees are made of PVC plastic. Some other materials known to be used for faux trees include aluminum, brush bristles, fiber optics, and wood.

Aluminum Trees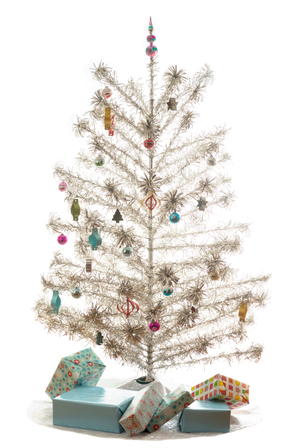 Aluminum trees have foil needles and are often set on a rotating base of color. These silver trees were very popular in the United States during the 1950s and '60s but went out of style after that. Though they can still be purchased online, these artificial trees are a more antiquated option.

Brush Bristle Trees
Brush Bristle trees were popular in Britain in the 1930s and are considered the first artificial trees of that country. Created by a company that manufactured toilet brushes, they used the same machines and animal hair to create these fake trees. The brush bristles were dyed green to represent the look of Christmas trees.

Fiber Optic Trees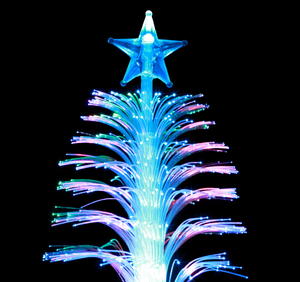 You may remember having seen fiber optic trees in stores or someone's home because they are difficult to forget. Fiber optics are strips of transparent plastic or glass fibers. These strips are flexible and can emit light, making them wonderfully unique Christmas trees. You wouldn't even need to decorate these trees with lights!

PVC Plastic Trees
As mentioned, PVC plastic is used for the majority of artificial Christmas trees made these days. Many are now made pre-lit and often come in separate pieces that can be stored and then assembled when you're ready to display your most important piece of Christmas decor. Once set up, most of these trees can hold all of your favorite homemade Christmas ornaments, candy canes, and garlands.

Wood Trees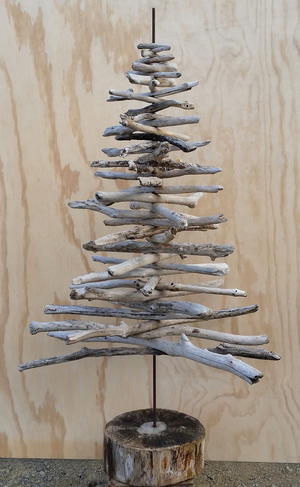 When the Germans thought of their feather Christmas trees, they still needed something of a base to resemble a tree. Even though these artificial trees were designed because of a lack of trees, wood was still the most common material to use. Other wood Christmas trees have been built to resemble the triangular shape of a traditional evergreen conifer, and can be painted green. Another wooden tree option is to create "branches" with strips of wood on a vertical wood pole.
You now know that, in America, Christmas trees became popular around the late 1700s to early 1800s. Since then we have loved putting up our Christmas trees not soon after November ends so that we can enjoy the beautiful touch of the outdoors inside throughout the holiday season. Modern Christmas trees are most often purchased from Christmas tree farms. The types range in size, shape, scent, care, and longevity, among other factors.

Types of Christmas Trees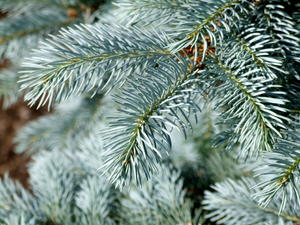 You can always refer to this super informative article, 16 Types of Christmas Trees, to get a full run-down of Christmas tree options. There are many choices, each with its pros and cons. Balsam firs are bright green, which gives them a festive look, whereas the blue spruce has a blue tint (thus, aptly named). Leyland cypress trees are perfect for allergy sufferers, and the Norway spruce has a very strong scent.
---

Make amazing homemade Christmas ornaments to decorate your Christmas tree this year. Our collection of DIY Christmas Ornaments: The 36 Best Ball, Beaded, Crochet, Felt, Knit, and Paper Ornaments provide you with the best of the best! Your tree will be the envy of everyone who walks into the room.
---
Pros of Artificial Christmas Trees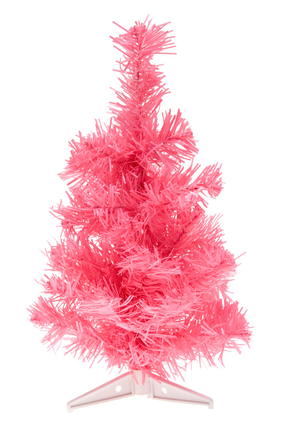 Artificial trees are simpler to maintain and can be reused for years. Oftentimes, these trees can be kept decorated while in storage, making the setup quick. Fake trees can be ordered in the height, shape, and color you desire, making them extremely customizable. You certainly can't get a real tree in pink! You don't have to water a tree or keep it alive, so it can easily be kept up for as long as you want. Though some pieces may age and fall off, these trees are not losing needles, so there is little cleanup as it sits in the living room.

Cons of Artificial Christmas Trees
Though there are some convenient pros, there are also important cons. When considering a real or fake Christmas tree, consider the following facts. Modern artificial trees are made of and using toxic chemicals, which aren't safe for the environment or us. It also means that artificial trees cannot be recycled. PVC trees used to be made with lead, but it has since been banned. Most PVC trees are now made with tin bases. A majority of artificial Christmas trees are imported from China every year, as there are not many U.S. companies that make fake trees. Because it is convenient to keep artificial Christmas trees for long, many people keep them for much longer than they should. Newer fake trees are safer, but the artificial trees made with lead have a much higher risk of contamination the more they degrade. This is extremely dangerous for adults, children, and pets.
Pros of Live Christmas Trees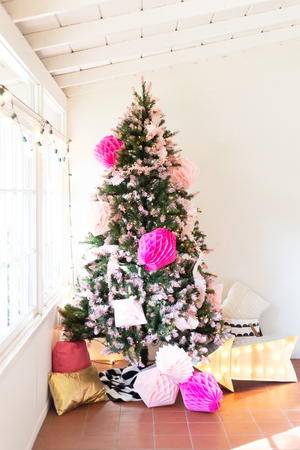 Real trees can be chosen based on your needs. Picking out a Christmas tree is also one of the most exciting family activities. Many farms have events and other fun activities besides picking out a tree. Some let you even cut down your own tree. In modern times, measures have been taken to grow real trees specifically for Christmas, making the process sustainable and actually beneficial to the environment. We've all seen those Christmas movies where a family goes out into the forest to cut down their tree, but that's not very realistic, at least not anymore. Real Christmas trees are now mostly grown on Christmas tree farms, not taken from forests. While growing, which can take up to 5 years, these trees provide great habitats for local wildlife. Trees also absorb carbon dioxide while supplying necessary oxygen to the air. When you buy a tree from a Christmas tree farm, you are supporting farmers and your community. Real trees can also be recycled or mulched, and many communities even provide free tree disposal after the holidays.

Cons of Live Christmas Trees
Because these trees are real, they are susceptible to the same problems as any plant. Sometimes pesticides are used to keep the trees healthy. If this is a concern, ask before purchasing your tree at a tree farm. The other issue with using a real tree for Christmas is that even the lowest maintenance trees require watering. Some evergreens lose needles, especially if they are not cared for properly. That makes it difficult to hang all of your favorite Christmas ornament crafts without making a mess. Live Christmas trees start dying once they are cut down, and some varieties do not last as long as others. Therefore, you have to be strategic about when you put up the tree. Though there are some softer trees, many have sharp needles that can be dangerous for everyone, but especially unknowing children and pets.
---

Our FREE eBook, How to Make Wreaths: 15 DIY Wreaths for Christmas, is full of Christmas wreath ideas to decorate your door this holiday season. Pick any one of these fabulous tutorials and learn how to make a wreath. Whether you're hoping to make crafts from the contents of your recycling bin or you want to clean out your craft room, this guide will provide plenty of inspiration.
---
It essentially comes down to you and your family's needs. If you have a busy schedule throughout the holiday season, you may not be willing to care for a tree. If you can't get enough of that evergreen scent, then a real tree might be your best bet. No matter which type of tree you get, make some of these wonderful DIY Christmas ornaments to display on your Christmas tree and it will be beautiful!
So, which do you prefer? Artificial or real Christmas trees?
Free projects, giveaways, exclusive partner offers, and more straight to your inbox!
Tags / Related Topics
Your Recently Viewed Projects
Images from other crafters


Something worth saving?
SAVE all your favorite projects
ADD personal notes
QUICKLY reference your projects