10 Quick and Easy Christmas Gifts to Make eBook
Bonus: Get our newsletter & special offers for free. We will not share or sell your email address. View our Privacy Policy

16 Types of Christmas Trees
By:
Krista Childers, Editor, AllFreeChristmasCrafts.com

There is nothing more representative of Christmas than beautifully trimmed Christmas trees. Most homes that celebrate Christmas have at least one set up throughout December. While shopping for a tree, some people choose artificial trees, whereas others choose to go to Christmas tree farms and pick out, cut, and set up real trees in their homes. We want to help you choose the perfect tree for your space, which is why we have created this list of 16 Types of Christmas Trees.


You can't beat the real tree scent and appearance. Also, decorating a tree with ornaments, garland, lights, and candy canes is one of the most fun family activities. There are many types of Christmas trees to choose from and each one has advantages and disadvantages.

---

Once you have the perfect tree, you'll need the perfect ornaments! DIY is always best, so download our free eBook, How to Make Ornaments: 10 Christmas Ornaments to Make. Within the 26 pages of this free eBook, you'll find all kinds of Christmas ornaments to make with inexpensive, easy-to-use materials.
---


16 Types of Christmas Trees
Table of Contents


Deodar Cedar
Native to the Himalayas, this tree has relaxed foliage, which gives it a decorative look. It has a slight blue-gray tint, and tends to be wide. Make sure you have plenty of room for this grand tree. This type of tree is hardy and low maintenance, making it a great choice for Christmas.
Eastern Red Cedar
Sometimes spelled eastern redcedar, this is an interesting and unique tree. The shape is pyramidal and the branches grow upward, giving it a pleasing look. It can hold heavier decorations. The color is a shiny dark green, pleasing to the eye. This tree has a nice, understated aroma. It can dry out quickly, so it involves more maintenance to keep it watered regularly.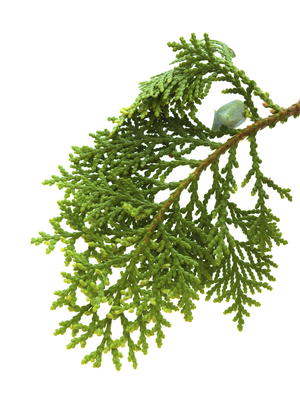 Arizona Cypress
This southwestern tree is drought-tolerant and has an attractive shape, which makes it a popular choice for a Christmas tree. The branches are soft, and it is pale greenish-gray in color. This tree gives off a pleasant scent. It is rather low maintenance, only needing to be watered every other week. However, because of its drought tolerance, it is more susceptible to fire.
Leyland Cypress
As the most popular types of Christmas trees in the southeast, these are an allergy-sufferer's dream tree. It is only lightly-scented, doesn't produce sap, and is nicely shaped and delicate in nature. It is dark green, sometimes with a hint of gray or blue. It is strong and fairly low maintenance.
---

Find the most interesting ball ornament crafts we have to offer with this amazing collection: 17 Unique and Unexpected DIY Christmas Ball Ornaments. We promise that these DIY ornaments will astound you.

---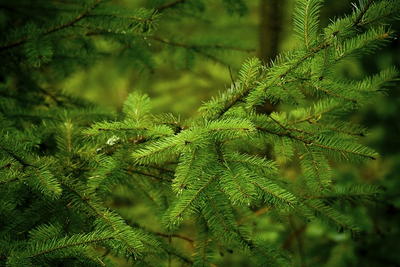 Balsam Fir
This is a popular pick and, because of its slim stature, is perfect for smaller spaces. This tree has short, sturdy needles and is bright to dark green in color. This tree is very fragrant and will make your space smell very Christmassy. It does need to be watered daily, but is otherwise very easy to maintain.
Canaan Fir
A variety of the Balsam, this fir tree is quickly becoming one of the most popular Christmas tree options. It lasts longer than most trees, has beautiful, separate, and strong branches that give it an interesting appearance. It is green with blue to silvery undertones, has a wonderful aroma, and the needles are soft. It is easy to care for as well.
Douglas Fir
Douglas firs are highly sought-after trees for Christmas because of their classic, conical shape. The needles are a rich, dark green and soft, with a sweet fragrance. This tree is sturdy and easy to maintain throughout the holiday.
Fraser Fir
Fraser firs grow naturally at high elevations in the southeast. It is bushy yet narrow, and is a nice shade of green with silvery tints. It is fragrant and retains needles. Place this cut tree in water immediately, as it can dry out quickly. It is easy to maintain, but the water should be checked daily and kept at a constant level.
Noble Fir
Often used for wreaths and garland, this good-looking tree can hold heavy ornaments and is often highly symmetrical. This type of Christmas tree is a vibrant shade of green, with good needle retention. This is a great, low maintenance option for any space.
White Fir
Also known as a concolor fir, this is a very popular choice. The foliage is a nice shade of green, with round, narrow needles. The scent this tree gives off is sometimes described as citrusy. It does not require heavy maintenance.

Scotch Pine
Scotch (also known as a scots) pines are the most common types of Christmas trees in the United States and for good reason. It is beautifully shaped, rich in color, retains needles, and gives off a long-lasting, pleasant aroma. It is low maintenance and stays fresh for a long time.
Virginia Pine
This Christmas tree is a popular pick in the south, with long, twisted needles. It is dark green with strong branches. Water this tree daily, but otherwise it is a sturdy choice.
White Pine
This is another good choice for people with allergies because it retains needles well and has little fragrance. The needles are long and it is a soft shade of greenish-blue. This is a more delicate tree and cannot hold heavy decorations. It is a low maintenance tree.
---

With our free eBook, 11 Christmas Gift Ideas: Handmade Scarves, Hats and More, you will find the most incredible homemade gifts to make for all of your loved ones. Inside the pages of this eBook, you'll find sewn scarves, paper hats, crocheted jewelry and so much more.
---

Blue Spruce
Aptly named, this tree has a blue tint, which gives it an overall soft appearance. This tree has very sharp needles, so it is not recommended for households with children or curious pets. Though it has decent needle retention, an unpleasant odor is omitted when the needles are crushed. This is a beautiful tree that does not require a lot of maintenance.
Norway Spruce
Though not native to the United States, this type of tree is planted often in the northeast of the country. With shiny green upright, long branches (though droopy near the bottom), this robust tree holds heavy decorations well. It has a strong scent. It does need to be watered frequently in order to keep the needles from falling out.
White Spruce
This is the state tree of North Dakota. It has a nice shape, but may need to be trimmed for a more ideal Christmas tree shape. It can hold all sorts of decorations, and has a lovely greenish-blue shade. When the needles are crushed, it omits a bad odor. Average care is needed to maintain this tree's freshness.
What is your favorite type of Christmas tree? Let us know in the comments!
Free projects, giveaways, exclusive partner offers, and more straight to your inbox!
Tags / Related Topics
Your Recently Viewed Projects
Images from other crafters


Something worth saving?
SAVE all your favorite projects
ADD personal notes
QUICKLY reference your projects