18 Piece Cookie Cutters Set Review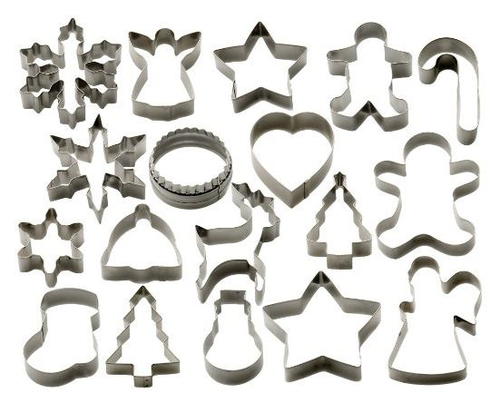 18 Piece Cookie Cutters Set Review
www.starpackproducts.com
Reviewed by zzz Christine zzz Weiher, Editor, AllFreeChristmasCrafts.com

When you begin to see the twinkling lights, the stores becoming overcrowded with trees, decor and glittery things then you know Christmas is on its way. With the cheery ensembles, the peppy Christmas music and the bells ringing, you know it just isn't the holidays without some baking. Be sure you enjoy the holidays with StarPack Products.


Everyone loves that delicious sweet-smelling scent of freshly baked cookies; the house is warm and cozy and it just brings all the good feels. The 18 piece Cookie Cutters Set from StarPack will provide all the right cookies you're looking for this holiday season. Included in the set is a star, a heart, a tree, a candy cane, a snowflake, a gingerbread man, an angel and so many more; you really can find just about every holiday themed shape within this set. There are eight large cookie cutters (3-4 inches) and 10 small cookie cutters (2.5 inches) in total.


These fabulous cutters are made of stainless steel that will hold their shape for years to come. They're designed for easy use and clean up; the cutting edge is sharp for precise shapes, yet the holding edge is easy on your hands.


You'll really enjoy the different sizes of the cutters, especially if you have small kids in the family; smaller cookies equal less sugar rushes. You'll also love that you can use these pretty much any time of year. Use the heart for Valentine cookies, the snowflakes for any winter occasion, the stars can be used year round and the snowman cutter can be used for an Olaf-themed birthday party.


Let some fun sugar cookies appear in your baking session this season. Keep a batch for yourself and package some up for a great gift basket for others. StarPack is here for all your holiday backing needs.


What is your favorite Christmas cookie to make? Comment below!

Your Recently Viewed Projects