Japanese Creations Chigiri-e Washi Paper Art Kit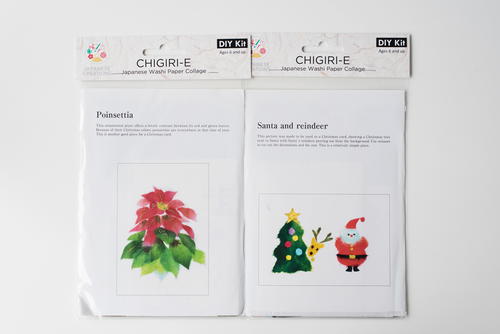 Japanese Creations Chigiri-e Washi Paper Art Kit
www.japanesecreations.com
Reviewed by zzz Christine zzz Weiher, Editor, AllFreeChristmasCrafts.com

There's something very delicate and pretty about Chigiri-e artwork, and now you can try this traditional Japanese art style yourself with kits from Japanese Creations. 

These kits include everything you need to make collage-style Japanese washi paper art. To make the artwork, you tear tiny pieces of washi paper, and glue them down on your canvas to create an image.

I had never tried washi paper art before, and I'll admit I was a little intimidated when I saw the starter kit, which includes everything you need to make chigiri-e. The most important tools are your tweezers, glue, water/glue dish, paintbrush and pen, but they include other helpful pieces like paper clips. Japanese Creations offers an e-course to walk you through making your DIY kit for a Japanese washi paper collage.

Once you have your glue mixed and you've transferred the kit's design to your art paper, the fun begins. I tried a 'Sweet Pea' design, with pretty pink flowers for spring. Making washi art is very calming and fun. Once you learn techniques for tearing the paper and gluing it down on your art board, it's easy to create a beautiful design. 'Color Your Heart Out' is another easy beginner kit, which features a rainbow heart design.

As soon as I was comfortable tearing the paper, my creative side kicked in and I was more selective over what parts of the paper I tore. Washi paper has beautiful unique dyes, so your artwork would not look the same as someone else's. It was stress-free knowing that I didn't have to make my art look exactly like the template. I could select my own colors and shapes while following their general design.

For a beginner kit, it took me about an hour to finish my piece of washi art. The fuzzy texture of the washi tape gives the artwork depth, and is very forgiving for a beginner. It's easy to remove or replace any mistakes. Also, the e-course allows you to rewind if you missed any helpful details. I would recommend using the e-course to beginners, as it was very helpful in identifying all the tools and getting set up.

I'd definitely recommend this calming art form to anyone who loves paper crafting.
Your Recently Viewed Projects