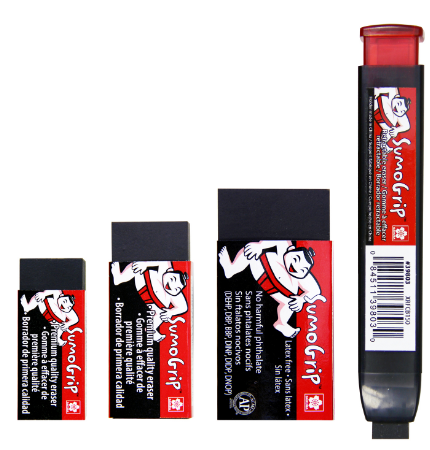 Sakura SumoGrip Eraser
sakuraofamerica.com
Reviewed by zzz Christine zzz Weiher, Editor, AllFreeChristmasCrafts.com

Sakura is typically known for their amazing coloring tools like Gelly Roll Pens, Glaze Pens, Pigma Pens, Koi Water Colors and even Cray-Pas. As an artist you want to have as many products as possible so you have plenty to choose from at your fingertips. However, even with the best pens and pencils you might not have that one item that will really make your drawing pop. Sakura has just come out with the SumoGrip Eraser.


The SumoGrip Eraser has a series of erasers that feature micro porous foam technology that moves graphite marks from surfaces. These erasers are made of cells that are constructed like a net that picks up those graphite marks and erases really well. The eraser picks up the graphite to create clean strokes and can give a "magical" look. What you'll really love about this eraser is that it requires minimal pressure to remove your mistakes or the graphite needed to make your piece perfect.


Having an eraser like this adds detail and effects to your image to make it come to life. Your image can look dull or even dirty without the proper eraser, so this is definitely one you need to add to your collection of products. The SumoGrip Eraser can create highlights; it can make your image sharp and make it pop.


There are three block sizes as well as a retractable, refillable stick holder. The smudge-free performance will make any artist, student or architect look like a pro. The eraser is black and will never look dirty, and best of all, when you erase it forms into strands for easy disposal.


Sakura also has a SumoGrip Mechanical Pencil that has a soft grip that makes it easy to draw. The ergonomically correct contour is a natural fit for hands and is perfect for those who tend to press hard while writing. Sketching, drafting and drawing are easy with this pencil and allows you to shade nicely.

Your Recently Viewed Projects