Deco Foil Transfer Sheets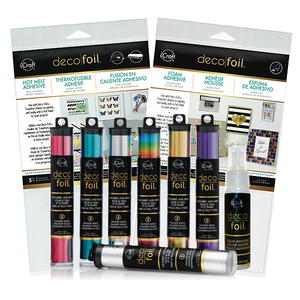 Deco Foil Transfer Sheets
Gifted by: Therm O Web
Reviewed by Christine Weiher, Editor, AllFreeChristmasCrafts.com


Deco Foil Transfer Sheets are a fun and easy way to add foil fun to your projects! Not only do they boost your creativity, but they also add vibrant color, brilliant shine and a metallic finish. These sheets are great for fabric, paper, wood and other porous surfaces; it truly is amazing what you can do with these sheets. Imagine "blinging out" a pair of shoes!

With foil sheets you need to use either Deco Foil Transfer Adhesive, Foam Adhesive or Hot Melt Transfer Adhesive. By combining foil sheets with the right adhesive, you'll be able to come up with a one-of-a-kind project.

The foils come in 29 fabulous colors, with rainbow being one of the most popular, but the gold and red would be perfect for holiday greeting cards. Imagine cutting out doves, trees, snowflakes and holiday phrases to adorn your cards with. With all these fabulous color Deco Foil Transfer Sheets to choose from, you're bound to come up with an amazing design. Get in the holiday spirit! These sheets are available in solids, patterns and holographics. Just to name a few: Teal, Green, Purple, Copper, Opal, Lilac.

Each roll of transfer sheets contains five 6"x12" sheets, and they're acid-free like most of the iCraft Deco Foil products. Simple to use, just apply Deco Foil Transfer Adhesive, let cure until dry, then press foil down for the metallic effect. Deco Foil Foam Adhesive is pressure sensitive, no need to dry. Deco Foil Hot Melt Adhesive applies with heat from an iron or laminator. Having a Christmas party? Deco Foil Transfer Sheets are great for invitations!
Other Therm O Web Products:
Deco Foil Adhesive Sheets: Deco Foil Foam Adhesive is a permanent, double-sided transfer adhesive that can quickly and easily transform a boring item into a fantastic piece of art. The foam adhesive can run through most punches, die cutters and electronic cutters. Deco Foil Hot Melt Adhesive is a heat-activated, permanent transfer that works on fabric and paper. You can exclusively use the Hot Melt Adhesive with the iCraft Deco Foil Transfer Sheets.

Deco Foil Transfer Adhesive: The iCraft Deco Foil Transfer Adhesive is a non-toxic and permanent liquid adhesive that is used with the Deco Foils. Draw out your line, shape or wording and then let it cure; it could take up to two hours depending on how thick of a line you've drawn. Once the adhesive is dry, press a transfer sheet (on the wrong side) on top of the liquid adhesive making sure to press and rub firmly on top, this will release the color onto the liquid adhesive. If you see any spots where the color didn't transfer you can lay the transfer sheet back down and rub again.
Your Recently Viewed Projects