X-Acto 12in Rotary Trimmer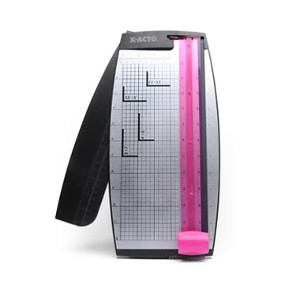 X-Acto 12in Rotary Trimmer
Gifted by Elmer's Products, Inc.
www.elmers.com
Reviewed by Annie Rosean
Here is an exciting product for crafters whose weapon of choice is paper. From X-Acto, a division of Elmer's Products, Inc., is the X-Acto 12in Rotary Trimmer. The X-Acto 12in Rotary Trimmer will slice and dice paper to your desired size neatly and accurately. Formerly difficult projects will become swift and easy paper crafts that you can complete with the slide of a safety-blade. Whether you're trying out a new paper craft, scrapbooking or cropping a photo, this rotary trimmer can take out those excess trimmings in no time.
Is your mouth watering yet?
There's still more to admire in this product. Even though it can handle heavy orders, the X-Acto 12in Rotary Trimmer won't take up space in your craft closet. As the name boasts, this piece is only 12 inches long. It's also flat so you'll hardly notice it amongst your papers waiting to be adjusted.
Every paper craft addict should have the X-Acto 12in Rotary Trimmer at their aid. It can cut up to 5 sheets of 20 lb. paper and includes features such as a see-through rail and printed grid for increased precision. If you want additional measurement accuracy, this X-Acto 12in Rotary Trimmer even has a pull-out arm. If the blade concerns you, rest assured that it is not exposed, so any little ones wandering into the craft room won't be in harm's way. Add this to your wish list; it delivers clean lines so that your paper crafts look extra professional.
Your Recently Viewed Projects