Scrap Material Christmas Crafts: 28 Wood, Fabric, Paper, and Yarn Projects
Scraptastic projects using leftover materials!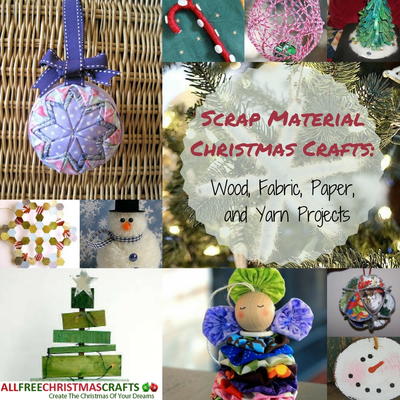 Stash buster and scrap buster time! Go get all those scraps of wood, fabric, paper, and yarn you have taking up room and start crafting. We have assembled this collection of the best scrappy crafts. In Scrap Material Christmas Crafts: 28 Wood, Fabric, Paper, and Yarn Projects, you will find so many glorious Christmas crafts that use up those spare pieces you have of your various scrap supplies. These scrap material ideas are fantastic Christmas crafts on their own but, when you consider how much money and space you're saving, it's close to a Christmas miracle.

In the sections below, you will find the best that AllFreeChristmasCrafts has to offer from Scrap Wood Projects, Scrap Fabric Ideas, Scrap Paper Crafts, and Yarn Scrap Projects. No matter what sort of crafting supplies you have, you will find some way to use them today. Take a look at these options to make this year your thriftiest Christmas yet!
Table of Contents
Scrap Wood Projects
Woodworking projects are awesome, especially for Christmas crafters. However, wood can get expensive. The Christmas crafts listed below will help ease that pain in your wallet because they are scrap wood projects. Meaning, these scrap material ideas use scrap wood or small pieces that you can often salvage from old wood furniture or get for cheap at the store. These crafts make amazing DIY outdoor Christmas decor for the holiday season, but most look just as fitting inside the home.
Scrap Fabric Ideas
Whether you are an avid sewer, quilter, or just have a lot of old clothes taking up space in your home, these fabric scrap projects will open up a lot of possibilities for your spare fabric pieces. If you don't have a lot of fabric to use, you can easily find cheap remnants at the craft store or hunt for fabric pieces at your local thrift stores or garage sales.
Scrap Paper Crafts
It's so easy to find scrap paper around. Even if you don't do a lot of paper crafting, we all have lots of junk mail and recycling bins full of random paper material. That's why we love these scrap paper projects. From homemade Christmas ornaments made of paper scraps to table decor that will impress your guests, these scrap paper crafts are wonderful.
Yarn Scrap Projects
Lots of Christmas crafters are also knitters and crocheters. If those tiny yarn balls are getting out of control, don't fret. These yarn projects will shrink the size of your yarn stack while providing you with great yarn scrap projects that will become useful during Christmastime. Because yarn is so handy, these different project ideas you'll find below will intrigue every type of crafter.  
How do you use up your scrap material? Share your ideas in the comments!
Your Recently Viewed Projects