12 Toilet Paper Roll Crafts for Christmas
These are great toilet roll Christmas craft for kids and adults alike.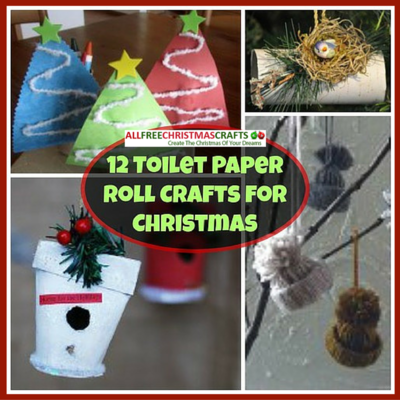 Out of all of the recycled craft materials you could use, who would think there would be so many involving regular old toilet paper rolls? Sure enough, we've got 12 Toilet Paper Roll Crafts for Christmas that will change your idea of all things Christmas.

You can make your own Christmas ornament crafts, homemade decorations, and we even provide a few ways to make a snowflake that will change your idea of green craft projects forever. Be sure to keep your old paper rolls handy because you'll want to try all of these ideas once you see how amazing the results are. It's quite remarkable how many homemade Christmas crafts you can make from a simple toilet paper roll and since everyone buys toilet paper, you won't need to search high and low for materials. We have compiled the best toilet paper roll crafts for the holiday season. Each project will add a special touch to your Christmas decor. When friends and family members come over to visit, they will marvel at your creativity and be amazed at what you can do with such a simple material. 
Table of Contents
Christmas Ornament Crafts with Toilet Paper Rolls
Toilet paper roll crafts are strong, but flexible, making them the perfect material for a Christmas ornament crafts. Make a flower in every color for these toilet paper roll Christmas ornaments to put your tree in full bloom. You'll really be going green with a nature inspired toilet roll craft.​ This is another Christmas ornament craft with toilet rolls that will impress everyone. ​Kids and adults alike will love these awesome stash-busting toilet paper roll crafts. The bonus nutcracker listed below will guard your tree all Christmas.
Christmas Decorating Ideas with Toilet Paper Rolls
You don't have to spend tons of money to add to your Christmas home decor. Try these toilet roll crafts instead. Any lover of angel crafts will want to include this toilet paper roll craft in their decorating. Learn how to make a snowflake that you can put in any room. Start your Christmas party off with a bang using some creative toilet paper roll Christmas cracker decorations. Make the holiday season a little more fun with Christmas crafts with toilet paper rolls just like these. Eye-catching projects like this tree star will look wonderful on top of your tree. Toilet paper roll Christmas crafts are a great way to save on supplies and make a one-of-a-kind design. Check out the bonus for a fantastic idea involving recycling those toilet roll tubes. This colorful Christmas tree decoration will make a brilliant centerpiece or addition to any spot in your house.
Toilet Roll Crafts for All Ages
Another great thing about toilet paper rolls is how easy they are for younger crafters to work with, making these toilet paper roll crafts perfect for all ages. Show your little ones how to make star craft ornaments with your recyclables.  See a whole new way to use your yarn with these toilet roll crafts.  Kids will have so much fun making their own tree crafts to place around the house.  Many of these make perfect stocking stuffers, and can be recycled as soon as they're used.​ These fun little "bad guy" Christmas characters will look great on your mantel or table. It's a creative idea for a family activity and holiday decoration.
What are some of your favorite ways to transform toilet paper rolls?
Comment and let us know!
Your Recently Viewed Projects