StarPack Ultimate Silicone Baking Utensil Set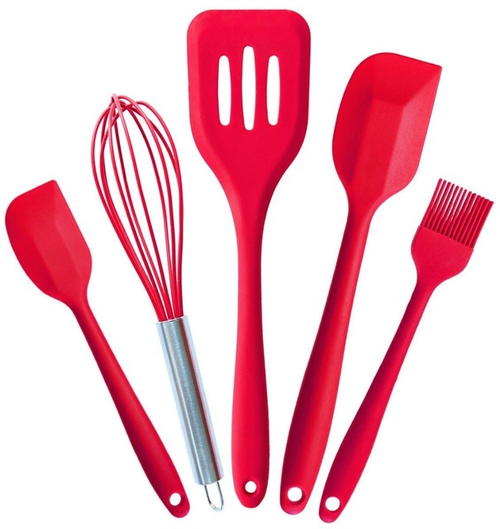 StarPack Ultimate Silicone Baking Utensil Set
www.starpackproducts.com
Reviewed by , Editor, AllFreeChristmasCrafts.com

The Starpack Ultimate 5 Piece Silicone Baking Utensil Set has all you need to bake up a storm in the kitchen. The 5 piece sets includes a whisk, basting brush, turner, and a small and large spatula. The silicone tools are easy to use and even easier to clean than tools made from stainless steel.

 

All of the tools are heat resistant up to 480 degrees F so you don't have to worry about accidentally burning yourself. Aside from temperature, the silicone in the tools makes them great to use with nonstick cookware. You won't scratch up all of your expensive pots and pans because it is gentle on the surface. They each have a handy whole at the top of the handle for convenient hanging.

 

Each tool has an important use in the kitchen and won't just take up space. The whisk is one of my favorite parts of the set. It actually has silicone coated wires making it simple to whisk a sauce or a batter right in the pan without worry. Because they are simply coated wire, the whisk remains quite flexible, yet sturdy.

 

Both of the spatulas are extremely handy when baking and cooking. The smaller spatula is great for small amounts of batter or sauce. I use it for frosting delicate baked goods and cakes. The larger spatula gets used almost every day. I use it for transferring batter into a pan, scraping the sides of a mixing bowl, and folding ingredients. The turner is useful for flipping pancakes, pan frying, and removing burgers from a hot grill. It has a steel core which keeps it strong and sturdy. The basting brush has both cooking and baking applications as well. I use it to spread glaze on meat while grilling and to coat pastries with an egg wash. The flexible bristles are easy to clean without any hassle. 

 

This StarPack tool set will soon become your favorite line of kitchen utensils. They are made for long-term use and won't melt or discolor because of the materials they are made with. The essential set has a beautiful red color that will look great in any kitchen.
Your Recently Viewed Projects