OOLY Travel Watercolor Palette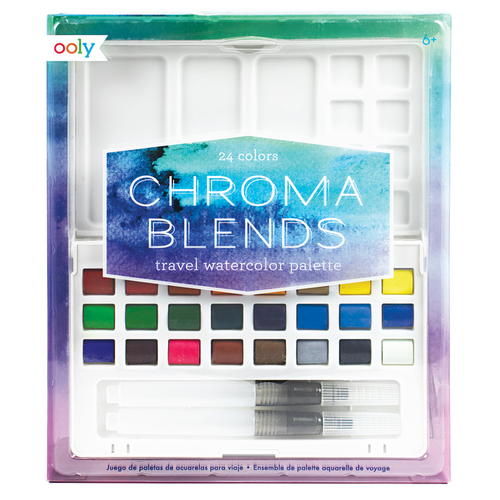 OOLY Travel Watercolor Palette
www.ooly.com
Reviewed by zzz Christine zzz Weiher, Editor, AllFreeChristmasCrafts.com

When you're the artistic type who doesn't like to leave the studio or put down your brush then you're going to love the newest product from OOLY. Their Chroma Blends Travel Watercolor Palette is pure perfection.


Now you can take your artistic creations with you everywhere you go. This travel watercolor set comes with 24 watercolors and 2 water brushes with a built in watercolor palette that closes into a small set measuring 4 inches by 7 inches. You may be wondering what water brushes are - or maybe you're not if painting is your expertise. Those who don't know what it is, it's a brush with an area for holding water, so you don't have to worry about having water on-hand to dip your brush in; if you ask me, that's pure genius. The water is right in the barrel of each brush; one brush has a flat tip and the other has a round tip allowing you to use all types of watercolor techniques. This is the time to see how fancy and creative you can get. 


The watercolor palette has plenty of room for you to blend colors and create new color combos; with 24 watercolors there are just enough partitions in the palette for you to play around with making new colors. This is the perfect little product to get you going and will even help you come up with new ideas for color schemes. Pair this travel palette with OOLY's Watercolor Paper and you'll be all set.
Your Recently Viewed Projects