10 Quick and Easy Christmas Gifts to Make eBook
Bonus: Get our newsletter & special offers for free. We will not share or sell your email address. View our Privacy Policy

How to Decorate a Christmas Tree
Ideas, tips, and more to make your Christmas tree beautiful!
By:
Krista Childers, Editor, AllFreeChristmasCrafts.com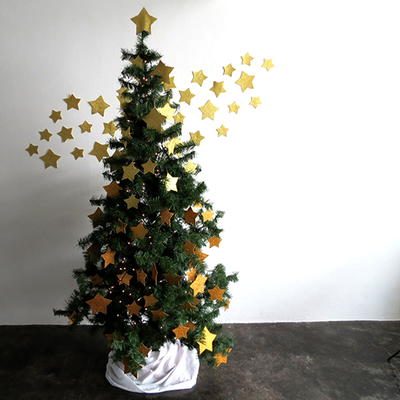 For many, the Christmas tree is one of the most important if not the most important Christmas decorations in a home during the winter holidays. A Christmas tree is the focal point of the room, which is why it is so important to decorate it well.

Luckily, if you're looking for Christmas decorating ideas for your tree, you're in the right place. Learn How to Decorate a Christmas Tree so that you're filled with Christmas joy every time you walk into the room this Christmas. These tips for decorating Christmas trees involve light, garland, topper, and more ideas.

This helpful article will give you an overview Christmas tree decorating ideas so that you'll have a fantastic starting point.

Mix and match some of these Christmas tree ideas or use one idea and enhance it.

Christmas trees are rarely ugly, but you can make yours sparkle and shine in the best way possible with these tips for decorating a Christmas tree!
Table of Contents
Christmas Tree Ideas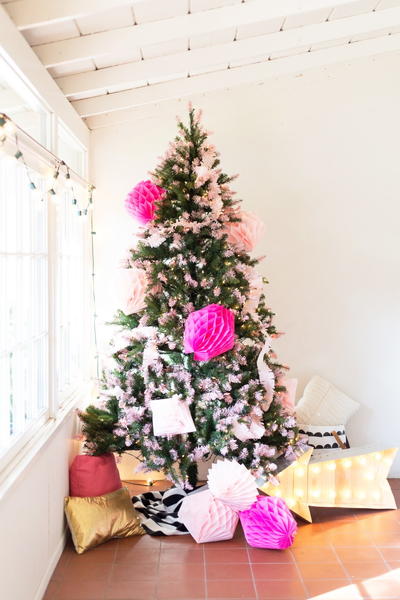 Choosing the right tree for this Christmas or for years to come is a big decision. Don't fret because we have reading material that will help you greatly.

If you are not sure if you want to purchase a live tree every year or an artificial tree that can be kept for much longer, take a look at Real vs Fake Christmas Trees: Which is Better? 

If you decide on a real tree, there's a good chance you'll be overwhelmed with how many choices there are. Did you know that some evergreens are better for kids and pets than others? What about people with busy lifestyles?

16 Types of Christmas Trees article provides useful information about the 16 most popular choices for a real Christmas tree.

If you can't narrow it down to one, change it up next year and then compare! You will also learn some helpful tips for decorating Christmas trees that have unique qualities.
 
Steps for Decorating a Christmas Tree

So, you've bought a tree. What now? Follow these steps to help you put all of your DIY Christmas decorations on at the right time. With these tips and tricks, you will be a tree trimming expert in no time.

Step 1: Set up your Christmas tree using a tree stand.
Make sure it is secure before you start decorating. There are several Christmas stands available to you, many of the newer models are made to be extra secure.

Step 2: String your Christmas lights.
Start from the top and work your way down, being careful not to pull too tightly. You want to "drape" the lights without unneeded tautness. With a wider tree, pull some of the lights inside to give tree dimension. Hide the end plugs behind branches. You can also use other decorations to hide the plugs.

Step 3: Wrap your garlands.
If you want some garland strung around your Christmas, then this is the time to add. However, you could also wrap it around your string of lights and add them at the same time. Similarly to stringing lights, don't pull too light as you go around. For a traditional look, leave equal amounts of space in between each row.

Step 4: Add your ornaments.
Heavier ornaments should go near the bottom. If you have a lot of the same ornament (such as snowflakes or icicles,) put those on first to spread them out. If you make your own ornaments, you can create exactly what you want. If you are adding candy canes or other extra elements, add those now too! 

Step 5: Set your tree topper on your Christmas tree.
It's a popular tradition to add your tree topper on top of your Christmas tree once you have finished decorating. It's a great time to gather the family, take a look at your work, and pick a lucky member to top the tree. Angels and stars are the most common tree toppers, but you can get creative with themes or new ideas.

Step 6: Put your tree skirt on.
Tie or drape your tree skirt around the base of your Christmas tree. You want to do this last so that you are not trampling all over the skirt as you decorate. 

Step 7: Add presents!
If you are looking for homemade gift ideas, we have some special craft projects for you! There is no right or wrong way to assemble gifts under the tree, however, it looks best when sizes and wrapping patterns are varied around the tree.
Christmas Garland Ideas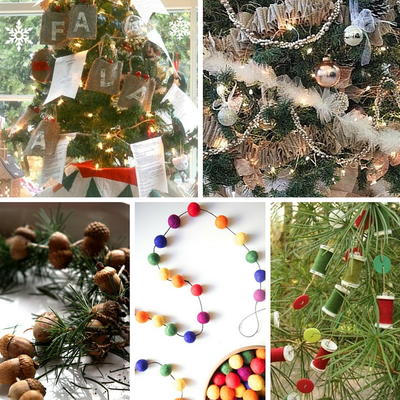 DIY garland is so fun to make and comes in a variety of types. Christmas garlands can be as simple or as complex as you want. You can use food, such as candy canes, cookies, seeds, nuts, and fruit. Even cereal! You can use natural items, such as pine cones, acorns, leaves, and flowers. Many fabrics are used to make homemade garlands. Burlap is a sturdy, rustic choice, but lace, cotton, tulle, and felt are also super common fabrics used in this craft. Paper is a great material for garland. You can make a paper chain with patterned paper, for example. Other materials, like buttons, tinsel, pipe cleaners, and yarn are brilliant options as well. Check out some of the ideas below!
"Decorating a Christmas tree doesn't have to be an expensive proposition," says Ann Martin, from Allthingspaper.net. "Believe it or not, elegant ornaments can be made from simple paper. I enjoy crafting origami (folded paper) and quilled (rolled paper) decorations using solid color and patterned paper that are available by the sheet," she says. "Choose a palette of just a few colors to keep things classy and look for a spool of lightweight metallic hanging cord. When Christmas is over, place the decorations inside a sturdy carton and store in a cool, dry place... you can expect them to last for years, just as you would glass ornaments."

Martin adds, "A favorite type of tree decoration I have made many of is called a Folded German Bell. An index card is just the right weight as it provides sturdiness. Fold it with the lined side in for an all-white decoration, or if you're like me and enjoy a bit of metallic shine, brush on a coat or two of gold acrylic paint to finish the ornament."
 
Tips for Hanging Lights on Tree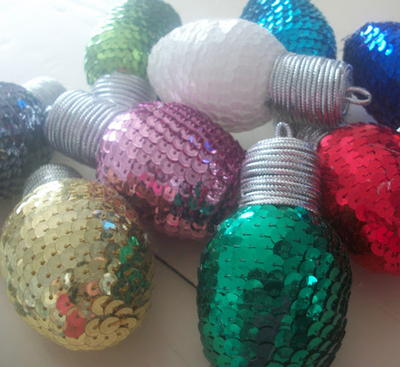 - We suggest you use an approximate number of 12 boxes of 50-light strands for a 6-foot tree 
- Plug your lights in before decorating your tree. This is best way to find out if any lights are broken before wrapping them around the tree.
- You should begin your project at the bottom of the tree near the trunk.
-  Next, separate the cord near the first bulb so it forms a loop. Slip the loop over one of the branches or greens near the trunk, and wrap the cord a few times around the branch to secure it.
- Pull the string of Christmas lights taut to the tip of the branch, then work back toward the trunk, wrapping the cord over itself and the branch
- Separate the cord again when you reach the trunk, and slip the cord over a branch to secure it. Next, carry the cord over to the next branch, wrap it around a branch near the trunk, and pull it out to the tip. Wrap the cord over itself and the branch as before.
- Continue wrapping branches in this manner until you come to the end of the string. 
Homemade Ornaments for Your Tree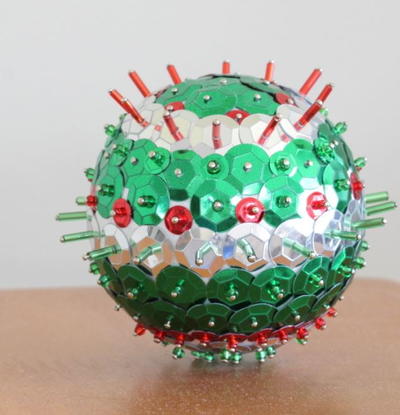 A way to make your tree very personalize is to make many of the ornaments yourself. We have a plethora of ornament craft ideas that are easy and inexpensive to complete. Your tree will be aglow featuring many beautiful and meaningful ornaments that you and your family were able to create yourselves. Nothing like looking at a Christmas tree that has all kinds ornaments that are filled with creativity and love. 
Christmas Tree Skirt Ideas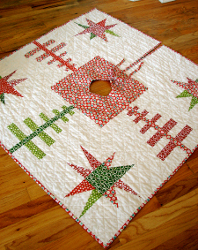 An incredibly special touch to your Christmsa tree can definitely be the skirt. You can make a very personalize skirt, which may represent your family or your family's interests and can really make a statement. We have some lovely ideas for this aspect of your holiday decor. Instead of buying just any old skirt, make one that will have some meaning to your family for years to come. Check out some of our fabulous skirts you can make yourself.
Paper plate crafts for kids are fun all year long including for the holidays. This year, have the kids make these adorable 3D Christmas Tree Crafts for Kids. They can paint or decorate their holiday trees any way they like. This is also an inexpensive craft to make during the holidays, so you can focus your savings on buying Christmas presents for loved ones while still occupying the kids' time with fun crafts and activities. Check these out: 3D Christmas Tree Crafts for Kids
How do you decorate your Christmas tree? Let us know in the comments below!
Free projects, giveaways, exclusive partner offers, and more straight to your inbox!
Tags / Related Topics
Your Recently Viewed Projects
Images from other crafters


Something worth saving?
SAVE all your favorite projects
ADD personal notes
QUICKLY reference your projects