33 Burlap Projects: Christmas Craft Ideas You Can't Miss
Burlap Christmas ornaments are just one of many burlap crafts you can make for the holidays.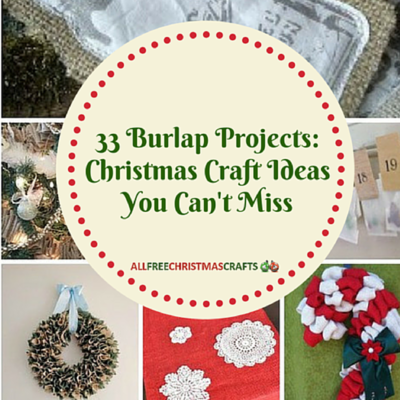 Burlap's natural color and sturdy feel make it perfect for a variety of projects. Find inspiration for homemade Christmas decorations with our round up of 33 Burlap Projects: Christmas Craft Ideas You Can't Miss. From stockings and ornaments to wreaths, you are sure to love one of these DIY Christmas decorations.

Burlap, hessian, and other coarse fabrics have been treasured by crafters for years. Burlap's popularity continues to grow with the rise of the shabby chic aesthetic. Give your space a rustic country feel during the holiday season and be sure to use it for a variety of burlap Christmas ideas. You won't believe how many great projects there are to make. Even if you're not a huge fan of the rustic feel, burlap Christmas crafts add a great textural element to any decoration. These free Christmas crafts will really stand out from the crowd when it comes to creating eye-catching pieces you'll keep for many years to come.
Table of Contents
Homemade Christmas Stockings
Romance your mantel with a rustic touch by creating homemade Christmas stockings from burlap. Homemade Christmas decorations add a personal touch to your home decor. Come Christmas morning, Santa will be cheerful as ever as he fills your DIY burlap Christmas stockings.
Homemade Garland Ideas
Deck your halls and trees with burlap garland. These homemade garland ideas are down-home alternatives to store-bought decorations. When you place a garland on the Christmas tree, the warm brown of the burlap contrasts beautifully with the deep green of the tree.
Homemade Christmas Ornaments
Perhaps you're not ready to commit to a burlap garland, but you still want to give your Christmas tree a touch of that shabby chic style. Hang one of these rustic homemade ornaments on your tree instead.
DIY Christmas Wreaths
These burlap crafts are great for indoor or outdoor decorating. You'll love these wreath crafts and will want to leave your creation up all year long. This is a great way to greet guests and show others how much you love the holiday season.
DIY Table Decorations
Do you love hosting Christmas parties? Tired of bringing out the same old red and green place settings every year? Decorate your dining room table with burlap Christmas projects that will look simply charming no matter where you display them.
Homemade Christmas Decorations
Want even more burlap Christmas crafts? Try sewing your own burlap pillows, decorating your Christmas tree with a sassy tree skirt, or make an absolutely gorgeous Christmas tree decoration.
What is your favorite way to use burlap when crafting?
Let us know in the comments below!
Your Recently Viewed Projects