24 Gorgeous Christmas Poinsettia Crafts
We gathered our best free poinsettia crafts to inspire your festive DIY Christmas decor!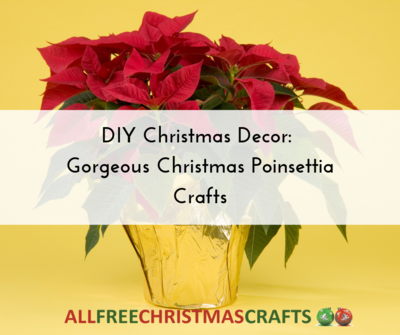 In a season of dipping temperatures and frosty landscapes, the poinsettia plant's vibrant colors and luscious petals make a gorgeous statement to your home's decor.

These crimson flowers are a Christmastime staple, likely because of their festive hue and flamboyant appearance. But if your plants die faster than you can say "Merry Christmas," fear not! Here at AllFreeChristmasCrafts, we've collected our best poinsettia crafts that will keep your home teeming with their beauty all season long!

So, break out your crafting materials and roll up your sleeves, because you're going to want to make them all.

 
Table of Contents
Free Poinsettia Crafts
The beauty of poinsettia crafts is how well they mesh with any style of Christmas decor you may have in your home. They add a pop of color to a minimalist, monochromatic decorative scheme, and blend perfectly with a collection of nostalgic and homemade decorations. These poinsettia crafts are as easy to make as they are beautiful in result, and are perfect for any beginner crafter!
Wearable Poinsettia Crafts
If you're one to wear your holiday spirit on your sleeve (pardon the pun), you're going to want to dive into these easy and fashionable poinsettia accessories! The natural beauty of the poinsettia makes for the perfect festive accent to your wardrobe. You can one of these projects to any of your outfits to instantly transform your look into something fit for your office or family Christmas party.
Poinsettia Ornament Crafts
Poinsettia ornaments are a classic Christmas tree decorative staple for a reason. They're timeless, simple, beautiful, and add a visual interest to your family's collection of ornaments. Homemade ornaments make some of the most special holiday decorations and hold more sentimentality than those bought at the store. You can give your Christmas tree a personal touch when you make any of these poinsettia ornament crafts.
Poinsettia Wreaths
Are you trying to decorate your walls this holiday season, but are tired of the typical Christmas wreath design? Then these poinsettia wreath crafts might be just the ticket to get you out of your decorative slump! These projects use a variety of materials and each have their own unique design that you won't be able to find at any retailer, making each wreath truly one-of-a-kind. 
Poinsettia Christmas Decor
These poinsettia decorations are so stunning, they look as though they had been plucked out of a high-end catalogue, but they can all be made with your own two hands! The guests at your annual Christmas party will be begging to know where you got your adorable Christmas poinsettia decor, and we're certain they won't believe that they were made by Y-O-U. Give your local home decorative store a run for their money and get to crafting these poinsettia decorations!
The Poinsettia Legend
Now, you may be wondering exactly how the poinsettia became a recognized symbol of the Christmas season. We were curious too, so we did a little digging into the history of the poinsettia plant's relationship to the holiday season!

Poinsettias are native to central America, mainly near southern Mexico. Many believe that the shape of a poinsettia is meant to symbolize the Star of Bethlehem, but an old Mexican legend can also be credited for tying the plant to Christmastime.

The tale says that a young girl wished to gift the baby Jesus at Christmas, but had nothing to give. So, she gathered a bouquet of weeds and brought them to the nativity scene, and legend has it that the love in her heart turned the weeds into beautiful crimson flowers. Because of this legend, poinsettias are known as "Flores de Noche Buena," which translates to "Flowers of the Holy Night."
Your Recently Viewed Projects