2016's Top 100 Christmas Crafts
Find DIY Christmas gifts, homemade Christmas ornaments, and more in this extensive collection!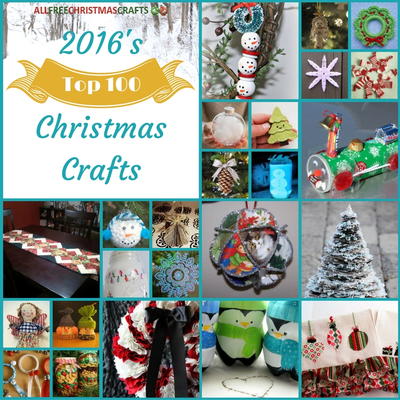 All year, our readers have been loving the gift, wearable, and Christmas decoration ideas featured on AllFreeChristmasCrafts. This collection, 2016's Top 100 Christmas Crafts, includes the top DIY Christmas decorations, homemade Christmas ornaments, and other unique Christmas crafts chosen by you! We have eight packed sections with every type of Christmas craft imaginable. Below you will find DIY Christmas ornaments made from all sorts of materials, recycled crafts using toilet paper rolls, mason jars, and wine bottles, and the most beautiful handmade Christmas gifts you could ever give.

But that's not all. There are adorable kids' Christmas crafts, snowman crafts, angel crafts, and even wearables for your Christmas party. There are gorgeous and thrifty DIY wreaths for your front door, stockings you will want to keep up long after Christmas, and the most glorious and thoughtful keepsakes that will become instant classics for your family.
Table of Contents
Unique, Ball, and Beaded Christmas Ornament Crafts
Homemade Christmas ornaments might be the favorite amongst Christmas crafters. That's because you can create so many amazing decorations for your tree involving different price ranges, skill levels, and materials. This section includes some of our most unique ornament craft ideas, along with the best ball and DIY beaded Christmas ornaments you loved all year. If you there are any left in this list that you haven't made yet, get started now!
Crochet, Fabric, and Paper DIY Ornaments
All of the DIY Christmas ornaments below use yarn, fabric, or some form of paper. We must say, you chose well with this selection. These Christmas crochet patterns, along with the fabric and paper ornaments listed below are stunningly beautiful. There are crochet ornaments using different skill levels and styles. There are also ornaments that don't need to be crocheted at all, instead assembled by folding or with needlework on felt. We promise you will have fun creating these no matter your crafting preference.
Angel Crafts for Christmas
Nothing is more apt for Christmas than an angel. This year, we have featured so many angelic Christmas angel crafts and the favorites are in. No doubt there are some fabulous and creative ideas in the list below. From ornaments to tabletop decor to gifts and everything in between, these sweet little angels will bring you, your family, and friends so much joy this holiday season.
Snowman Crafts for Christmas
One of the main reasons so many of us love the first snowfall is that it means it's time for snowmen of all kinds. When you and your family are not outside constructing snowmen and snowwomen in the yard, stay inside and make some of these snowman crafts for adults and kids. Below, find the most elegant snowman crafts along with the cutest crafts that kids will love. We even have snowmen made from clay pots, light bulbs, and golf balls. To say these snowman crafts are one-of-a-kind would be an understatement!
Christmas Crafts for Kids
Even though there are several projects throughout this collection that are fun for kids, these Christmas crafts will go over especially well with the young ones in any household. The Candy Christmas Train is a super fun project for a single child or a group of children and makes an awesome gift for teachers, too! These kids' Christmas crafts are sure to keep them busy when the weather is too frightful or when they are impatiently waiting for Santa's vist.
Bottle and Jar Crafts for Christmas
Recycled crafts are spectacularly resourceful but you'd never know it. Being able to save money during the holidays is so much more difficult than we ever think, which is why these craft ideas are so awesome. These recycled crafts use old bottles, containers, and jars. Everyone knows how amazing mason jar crafts are and these are the best out there. Mason jars are so versatile, along with these other recycled containers. Take a look and see for yourself what spectacular things you can make this Christmas.
DIY Christmas Decorations and Gift Ideas
Many of the crafts in this list make lovely, thoughtful and cute gift ideas for friends and family, but the items in this list include the type of Christmas crafts you may want to just keep yourself. Or, make multiples so that you don't have to choose. You will love these Christmas decoration ideas because they are unexpected, easy to make, and head-turning gorgeous. 
Homemade Christmas Stockings and DIY Wreaths
Wreaths are one of the first things that people see when they arrive at your home. What would be a better way to greet someone than with a DIY Christmas wreath that is out of this world? They won't believe you made these beyond beautiful wreaths yourself. Similarly, your new DIY stockings will be the first thing the kids see when they walk into the living room on Christmas morning. You will find some marvelous ideas below. 
What is your favorite type of Christmas craft?
Your Recently Viewed Projects